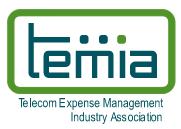 For corporations, bill shock from international roaming charges is an expensive lesson for executives disconnected from the billing process.
(PRWEB) April 24, 2012
The Telecom Expense Management Industry Association (TEMIA) (http://www.temia.org), the authoritative voice for Telecom Expense Management (TEM) and Wireless Expense Management (WEM) and Mobile Device Management (MDM) Solutions Providers, members share best practices and comment on an article in the Wall Street Journal: Stuck With a $10,000 Phone Bill: How Travelers Unwittingly Rack Up Roaming Charges; Tips for Cellular Service Abroad.
TEMIA Members' Opinions
A survey by the US Federal Communications Commission (FCC) in 2010 revealed that 30 million American mobile phone subscribers (1 in 6) experienced bill shock or an unexpectedly large bill for wireless services. TEMIA members confirm that mobile bill shock affects people in all regions of the world including Europe, Asia, Canada and Latin America. The Wall Street Journal article focuses on individuals, but employers that pay for employees' mobile services expenses see bill shock as well.
"On an individual basis bill shock can be an expensive learning experience. For a corporation, bill shock from international roaming charges continues to be a difficult lesson to learn for executives disconnected from the billing process," says Richard Bliss, chief marketing officer for Amtel. "Using Mobile Device Management solutions that automatically alerts the traveler and the billing department and switches to an international plan as soon as the phone leaves the country vastly reduces the cost overruns."
"The risk of roaming is becoming exponentially dangerous due to two variables; the proliferation of networks and the speed of these networks," said Chris Mezzatesta, senior vice president at Tangoe. "As 4G networks are rolled out across the globe, network download speeds are increasing to 42 Mbit/s. When international roaming, the cost for data can be $50 and up per megabyte. A person can easily spend thousands of dollars downloading a single movie while on a 4G international roaming network. Tangoe's rTEM solution provides visibility into network usage (data, voice, SMS, roaming) by monitoring mobile devices in real-time. The end result is that customers can eliminate bill shock by predicting and preventing exceeding their plans before they happen, added Chris Mezzatesta.
"Businesses face the same struggles with bill shock from international roaming," said Kevin Whitehurst managing partner and co-founder of mindWireless. "Controlling wireless devices and services through a centralized portal is the most powerful way to prevent bill shock for international travelers by communicating and educating employees, "added David Wise, managing partner from mindWireless.
Organizations should implement TEM WEM and MDM best practices to prevent bill shocks and unnecessary wasteful spending with:

policies that limit unnecessary use of mobile services
use of TEM/WEM portals to manage procurement of wireless devices and service plans
optimization of service plans through real-time and historical multi-variable analysis to ensure that employees have the right plans for their travel needs
sourcing and contract negotiation to secure more cost-effective plans
automaton of invoice processing to gain processing efficiencies and avoid late payment penalties for corporate and employee paid devices
validation of charges on bills through TEM/WEM systems
better accountability and visibility through charge-back reporting of usage and mobile expenses
real-time software to minimize data roaming, automatic updates to applications, misuse and abuse.
About TEMIA
The largest Telecom Expense Management service providers founded TEMIA, the Telecom Expense Management Industry Association, in 2006. Since that time, TEMIA has grown to 39 members with international corporate headquarters managing over $61 billion of telecom and data spend.
TEMIA's mission is to raise awareness and knowledge of the values and benefits of Telecom Expense Management TEM, Wireless Expense Management (WEM), Managed Mobility Services, (MMS) and Mobile Device Management (MDM) solutions, to improve the quality and value of these solutions through the development and promotion of open industry standards, and industry knowledge among Solutions Providers, business partners, telecom service providers, and enterprise clients.
Register to attend our upcoming webinar, Plan Globally, Deliver Locally: Finding the Smart Balance for Your Organization's International Mobile and Fixed TEM Needs.
For more information about TEMIA, visit http://www.temia.org.