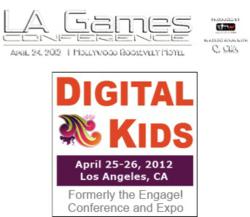 "This will be an exciting week, to say the least," Jordan Metzner, Head of Products and Partnerships, Xsolla.
Los Angeles, CA (PRWEB) April 24, 2012
Xsolla, the leader in providing in-game payment solutions worldwide, will be showcasing their award winning and industry leading payment solutions platform the Los Angeles Games Conference and the Digital Kids Conference, both of which take place in Los Angeles during the week of April23rd-27th.
Throughout the event, the Xsolla team will be meeting with current and future partners, industry peers, and fellow innovators from the online payment field. They anticipate sharing the time and space with game publishers and developers to discuss and consult about the latest news and happenings in the online gaming industry.
The 2012 iteration of LA Games Conference will be held at the Hollywood Roosevelt Hotel on April 24, 2012. This year's conference will host a full slate of industry panels, and topical debates between industry heavyweights, all with plenty of networking allotted in the day's schedule. While primarily a games summit, the city's proximity to Hollywood presents an interesting overlap with some other dominant entertainment mediums.
Taking place from April 25-26 at the Pasadena Convention Center, Digital Kids (formerly known as the Engage! Conference and Expo) provides insight into the latest strategies, technologies and techniques. The convention creates an environment where developers, investors and innovators are able to review the latest in games, social media, and evolving technology with a specific focus as it relates to the adolescent, tween, and teen age groups.
"This will be an exciting week, to say the least," says Head of Products and Partnerships Jordan Metzner. "LA Games Conference definitely has a uniquely Hollywood feel to it, both in its location and in the attendees. It's a conference crowd only possible in Los Angeles. Then, instead of a rest, we go straight to Digital Kids where we have to readjust our focus to the youth audience and products for that demographic. We're very enthused by the possibilities that this week presents."
In addition to attending, Mr. Metzner will be speaking at LA Games Conference on the panel, "Delivering the Virtual Goods: How Is the Micropayments Business Evolving for Games." The panel takes place from 3:00-3:45pm and is on the TRACK B - MONETIZATION series of forums. For more information on this and other features, visit the agenda here
About Los Angeles Games Conference
Taking place this year at the famed Hollywood Roosevelt Hotel, LA Games Conference will feature many of the most successful social game entrepreneurs shaping the gaming industry today, as it intersects with other forms of media and entertainment. For more information visit: http://lagamesconference.com/
About Digital Kids
Digital Kids® 2012 takes place April 25-26, 2012 in Los Angeles at the Pasadena Convention Center. Now in its 6th year, Digital Kids 2012 is focused on tools and strategies for reaching the constantly connected kids and youth. The proliferation of new devices and services allowing consumers to be "always on" creates a new set of challenges for companies eager to have an impact with digital youth.
About Xsolla
Xsolla is the worldwide leader in global, in-game payment optimization. The company's easily integrated products dramatically increase payment conversion by localizing and simplifying transactions for each unique user. Since its inception, the company has been innovating solutions to traditional publisher concerns such as tax law, currency conversion, piracy, and payment fraud. Xsolla collaborates with over 300 payment service providers to offer solutions via credit card, mobile payments, e-wallet, cash and e-cash, payment kiosks and more---all within one interface backed by 24/7 customer support.
Xsolla is partnered with many leading game publishers worldwide, such as Valve (Steam), Aeria Games, S2 Games, Gameforge, Bigpoint, Wargaming.net and more. The company is headquartered in Los Angeles with offices worldwide. For more information or a free proposal, please email bizdev(at)xsolla(dot)com or visit Xsolla online at http://www.xsolla.com View the company's product tour at http://youtu.be/2Vq7ymWXGyg.
Media Contact:
David Turner
Manager
d(dot)turner(at)xsolla(dot)com
work: (818) 435-6613
Social Media:
Follow Xsolla On Twitter: @xsolla http://www.twitter.com/xsolla
Facebook: http://www.facebook.com/xsollausa
Linked In: http://www.linkedin.com/company/2pay-inc
Newsroom & Blog: http://www.newsroom.xsolla.com