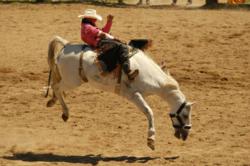 The website was launched just in time for SpringFest in May. We are very pleased with the look and feel of the new site.
Billings, MT (PRWEB) April 23, 2012
Today, Webgrain Inc., a full service website development company based in Billings Montana, announced the launch of the all new website for the Lewis and Clark County Fairgrounds. The Lewis and Clark County Fairgrounds in Helena Montana have been in existence since 1869 and the Last Chance Stampede Rodeo and Fair has celebrated over 50 years of summer fun. Visitors from all of the United States come to the Last Chance Stampede for world class rodeo action, nightly stage entertainment, exhibits and a whirl on a carnival ride or two.
The Lewis and Clark Fairgrounds and Exhibit Hall has events year-round with music, recreational events, carnivals and exhibits and offers facility rentals for indoor and outdoor spaces. Visitors to the new website can easily navigate through upcoming entertainment and securely purchase tickets, gather information to participate in events or rent space. Complete with videos, photo galleries and Facebook feeds, the website was redesigned from the ground up to help better engage the visitor. It now showcases the excitement of the events and entertainment with historical information and links to explore the Helena area as well.
"The website was launched just in time for SpringFest in May. This year, the celebration of spring finally arriving to Montana includes country music headliner Chris Cagle and the Northstar Amusements Carnival. We are very pleased with the look and feel of the new site," stated Keith Hatch, Fairgrounds Manager.
With a full Content Management System (CMS), staff can easily update and make quick updates to the site. Webgrain includes training and support as part of the development package.
About Webgrain Inc.
Founded in 2010 with offices in Billings and Bozeman Montana, Webgrain is a full service web design, database development, e-commerce solution and website hosting company. Webgrain grew rapidly by providing custom solutions for their clients and now has clients across the nation. Customers range from Fortune 500 customers and government projects to small local businesses. Thriving on the mix of businesses, the Webgrain team takes their projects from the sprout of an idea to fruition. Webgrain provides custom solutions that achieve any sized organization's specific goals- whether it is to inform, sell, or better service customers.
Webgrain is comprised of an experienced staff of web developers, database programmers, designers, copywriters and project managers. All of the Webgrain staff is Montana based and works diligently to ensure that every project receives the attention to detail required for website visitors and optimum functionality and management for their customers behind the scenes.
A specialty for Webgrain is online directories, which is evident in their local partner project called billings365.com. The popular directory is a supported by local bloggers and local advertisers, it features events, dining, movies, music, nightlife, lifestyle, and recreation content for the Billings, Montana area.