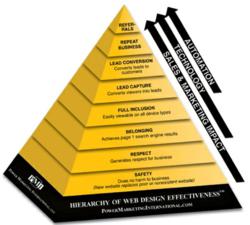 It targets the common sense marketing-driven requirements for creating a website designed to grow a business
Reading, PA (PRWEB) April 25, 2012
Power Marketing International LLC, a web design and marketing firm located near Reading, PA, released a new marketing-oriented website design model known as the Hierarchy of Web Design Effectiveness (TM).
"This new paradigm cuts through techno-jargon and targets the common sense marketing-driven requirements for creating a website designed to grow a business," said PMI founder and President, Alan Robezzoli. "It allows everyone from business owners to experienced marketers to share a common vision aimed at creating a solid website development and online marketing plan."
PMI's Hierarchy of Web Design Effectiveness is loosely based on psychologist Abraham Maslow's famous Hierarchy of Needs, which argues that people must satisfy basic needs for survival and safety before they are prepared to devote themselves to higher-level needs like achievement, respect, and creativity.
In a similar way, PMI's model identifies the basic web design requirements to be satisfied before high-level goals such as automated lead capture, conversion, repeat business, and referrals can be achieved. Borrowing from Maslow's terminology, the Hierarchy of Web Design Effectiveness (TM) details the website development stages toward achieving increased online marketing success:
1. Safety – does not harm business reputation
2. Respect – generates respect for business
3. Belonging – achieves page-1 search engine results
4. Full Inclusion – easily viewable on mobile devices
5. Lead Capture – converts website viewers into leads
6. Lead Conversion – converts leads to customers
7. Repeat Business – integrates with online marketing campaigns
8. Referrals – superior user experience results in additional new customers
To learn more go to http://www.powermarketinginternational.com/hierarchy-of-web-design-effectiveness
About Power Marketing International, LLC
Power Marketing International is an Internet marketing & web design firm located near Reading, PA, specializing in keyword-driven web design, web marketing, and social media marketing services and strategies for small and mid-sized companies. PMI offers a free, no-obligation initial consultation to qualified customers. Find them at http://www.PowerMarketingInternational.com.