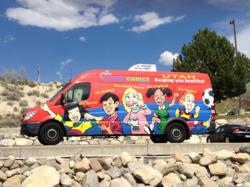 Salt Lake City, UT (PRWEB) April 24, 2012
Health Choice, a managed care organization that is part of the IASIS Healthcare system, is pleased to announce it signed a five-year contract with the Utah Department of Health to provide health care services to Medicaid beneficiaries which began April 1, 2012. The initial service area includes Davis and Salt Lake counties.
"We are so pleased to have this opportunity to partner with the state of Utah in expanding the high quality, cost-effective health care services we offer to medically underserved residents along the Wasatch front," said Ed Lamb, Western Division President of IASIS Healthcare. "We look forward to collaborating with the Utah Department of Health to further transform Utah's overall health care delivery system through our proven and innovative managed care programs that have greatly benefited other markets we serve."
As a result of the economic downturn, more and more people have found themselves without health care coverage due to job loss, underemployment, the high cost of insurance deductibles and co-insurance payments, or the inability to afford COBRA coverage. This has increased the number of individuals and families who qualify for government health care programs like Medicaid.
"The fabric of our culture is woven with a passion for the individuals we serve," said Collette Heaps, Executive Director of Health Choice Utah. "We improve health outcomes and the quality of life for the members we serve through the delivery of unique programs concentrated around each individual's health care needs. These include rigorous health assessments, interdisciplinary care teams and treatment plans, disease-focused medical homes and transition of care programs. Through these efforts, our members are healthier and can enjoy a better quality of life, in turn reducing the cost of care incurred by the State of Utah. "
The agreement with the Utah Department of Health gives Health Choice the opportunity to be part of a long-term partnership to collaboratively improve the health care delivery system as the State of Utah seeks partnerships with Accountable Care Organizations (ACOs) to provide care to its Medicaid recipients.
"Our medical team works collaboratively with physicians to identify potential health risks early so that intervention and treatment can begin quickly," said Arlen K. Jarrett, M.D., Chief Medical Officer of Health Choice Utah. "Equally important is our focus on providing culturally competent care to our members. Our physician community is well-versed in multiple languages and understands the cultural differences that can influence the provision of patient care."
IASIS Healthcare operates four hospitals in Utah including Salt Lake Regional Medical Center, Jordan Valley Medical Center, Davis Hospital and Medical Center, and Pioneer Valley Hospital. IASIS hospitals and their physician partners have shown a long-standing commitment to serving the families and communities of the greater Salt Lake City area by delivering exceptional health care services.
About Health Choice
Health Choice, a subsidiary of IASIS Healthcare, is a provider-owned managed care organization delivering robust health care services with innovative medical management programs to its members. Currently, Health Choice has approximately 6,000 professional providers rendering health care services to more than 180,000 Medicaid and Medicare beneficiaries in the State of Arizona. Health Choice began contracting with the Utah Department of Health to offer managed Medicaid services to the residents of Davis and Salt Lake counties on April 1, 2012. Health Choice began operations in July 1990. For more information, visit HealthChoiceAZ.com, HCGenerations.com and HealthChoiceUtah.com.
About IASIS Health Care
IASIS, located in Franklin, Tennessee, is a leading owner and operator of medium-sized acute care hospitals in high-growth urban and suburban markets. The Company operates its hospitals with a strong community focus by offering and developing healthcare services targeted to the needs of the markets it serves, promoting strong relationships with physicians and working with local managed care plans. IASIS owns or leases 18 acute care hospital facilities and one behavioral health hospital facility with a total of 4,365 licensed beds and has total annual net revenue of approximately $2.6 billion. These hospital facilities are located in seven regions: Salt Lake City, Utah; Phoenix, Arizona; Tampa-St. Petersburg, Florida; five cities in Texas, including Houston and San Antonio; Las Vegas, Nevada; West Monroe, Louisiana; and Woodland Park, Colorado. IASIS also owns and operates Health Choice, a Medicaid and Medicare managed care organization currently providing services in Arizona and Utah. For more information, visit IASISHealthcare.com