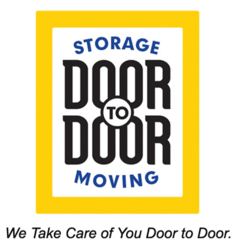 Door to Door is excited to participate at the national ERC® conference and we invite attendees to visit us at Booth #515 to learn more about how we can help businesses with their employee relocation needs
Kent, WA (PRWEB) April 24, 2012
Door to Door Storage, Inc. will participate as an exhibitor at the Worldwide ERC® National Relocation Conference. Taking place from May 9th-11th, 2012, the conference sessions and exhibits will be located at the Henry B. Gonzalez Convention Center in San Antonio, Texas. The annual conference is one of the largest gatherings where corporate and government HR and employee mobility professionals can find products and services to help their organizations administer and improve workforce mobility programs.
Door to Door Storage® is a member of the Worldwide ERC® (Employee Relocation Council), the workforce mobility association for professionals who oversee, manage, or support U.S. domestic and international employee transfers. The organization reports that $10 billion is spent annually in the U.S. on corporate relocation by Worldwide ERC® members alone (footnote 1). Door to Door™ reports similar findings as approximately 30 percent of the moves made by its customers are a result of job relocations.
"The workforce of today is becoming increasingly mobile, with over 200,000 annual transfers within the US by ERC companies alone," said Tracey Kelly, Senior Vice President of Sales and Marketing for Door to Door Storage. "If you are relocating for work, our job is to make it easy!"
Door to Door moving and storage services help businesses transfer employees to new job locations quickly and efficiently. The company offers lump-sum moving packages with fixed pricing providing a comprehensive service offering for moves—big or small.
Revolutionizing the self-storage industry with the introduction of portable storage, since 1996 Door to Door has helped individuals and families across the country manage life transitions that can include job relocations, staging/selling a home, remodeling, military moving/storage, or going away to school. In the past year Door to Door has added to its online resources with the launch of a new website, a mobile site for enhanced accessibility, e-commerce functionality, plus a Facebook page and a blog. Customers now have multiple ways to connect with the information and help they need to manage moves more easily.
For the third consecutive year, Door to Door will exhibit at the ERC® conference and can be found at Booth #515. Corporate representatives from the portable storage company attending the conference will include: Tracey Kelly, Senior Vice President of Sales and Marketing, Jim Wusterbarth, Vice President of Operations, and Ted Cummings, Director of New Channel Development.
"Door to Door is excited to participate at the national ERC® conference and we invite attendees to visit us at Booth #515 to learn more about how we can help businesses with their employee relocation needs," said Kelly.
1 http://www.worldwideerc.org/Resources/Research/Pages/Facts-and-Statistics.aspx
About Door to Door Storage, Inc.
Since 1996, Door to Door Storage, Inc. has helped people across the nation with their moving and storage needs. An industry pioneer, Door to Door was the first portable storage and moving company to provide customers with a convenient, secure and cost-effective alternative to traditional self-storage and household moving. Using an environmentally-friendly container design, Door to Door provides customers with a personalized experience for temporary or long-term moves.
Door to Door operates storage centers in more than 54 U.S. metropolitan markets and offers moving services in 36 states. The corporate headquarters is located in Kent, Washington. For more information, visit the company website at http://www.doortodoor.com.