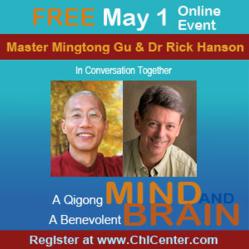 Petaluma, CA (PRWEB) April 24, 2012
On May 1, 1:30pm - 2:30pm Pacific Time, Qigong Master Mingtong Gu and neuropsychologist and best selling author Dr. Rick Hanson come together in a one-time free online live video event to share their insights on why "A Qigong Mind and A Benevolent Brain" should matter to every person. Every one can benefit from hearing these thought leaders, and especially every parent, teacher, doctor and caretaker, because neuroscience now recognizes that shaping a brilliant brain just added a new step. Qigong masters have taught for 5000 years, and now modern science is proving it, that a brain can regenerate and change over a whole lifetime through mindful practice. "When your mind changes, your brain changes too." Dr. Hanson writes in his best selling book, Buddha's Brain: The practical neuroscience of happiness, love and wisdom.
The online audience will learn why and when to start focusing on the mind, in order to build a better brain, that can slow mental aging and memory loss, manage stress, and achieve better sleep at night. "Qigong reconnects the communication between the mind and brain at any age." Master Gu said. Learn how a benevolent brain can help a person live with more joy and how this simple personal change can be critical to cultivating joy in their family, community and world.
Join this first-time conversation as Master Gu, who was trained in Qigong in China, and Dr. Hanson, a neuropsychologist, educated at Stanford, bring their respected eastern and western perspectives together to answer questions from interview host Ed Mills of The Shift Network. They will also lead a mind/brain meditation practice that the viewers can practice realtime.
The public is invited to go to The Chi Center Facebook page and ask the questions they would like answered, as a facebook audience question will be selected and asked during the event live.
This event is free, but pre-registration required at http://www.chicenter.com to watch the live May 1 event or watch recording until May 3. The Chi Center will present a follow-up workshop event on May 26, when Master Gu and Dr. Hanson will appear for an In-Person event in San Rafael, CA to teach the practice tools that are most effective in "Awaken Your True Power of Mind and Brain".