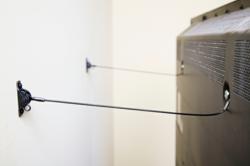 The Anti-tip Kit family saves lives by preventing TV and furniture tip-overs.
Woodland Hills, CA (PRWEB) April 25, 2012
The Hangman Store is pleased to announce that we are now working with Katie's Foundation for Child Safety to promote Child Safety. The Hangman Store sells Hangman Products award winning Anti-tip Kit family along with a complete line of heavy mirror and picture frame hanging solutions. Katie's Foundation will receive a donation for every product sold through the specially marked Hangman Store link on the Foundation's website. Click the link and it will take you directly to the Hangman Store. Place an order after you click through and the Foundation receives a donation.
Hangman's Anti-tip Kit family includes the Furniture Anti-tip Kit and TV Anti-tip Kit. Both kits were designed to prevent falling furniture and Flat Panel TV tip-overs. Falling furniture and Flat Panel televisions are major home hazards. Every year dozens of children die and many more are injured from accidents involving unsecured furniture and TV's. The Anti-tip Kits are all steel including a galvanized steel aircraft cable and can withstand 400 pounds of force when properly installed. In all cases the Hangman Store strongly recommends that during installation you secure one end of the cable to a stud in the wall. The TV Anti-tip Kit screws directly into the VESA mount on the back of a flat panel TV. Installation directions come with the kit and are available at http://www.hangmanstore.com on each kit's web page
Katie's Foundation for Child Safety was established to protect children by increasing parental awareness of the hidden dangers that exist in everyone's home. Each year, many injuries and deaths are caused from furniture and television tip-overs, falling furniture and improperly secured major appliances. In the immediate future, the Foundation looks to expand the public's attention to these hazards through information available on their website and its attachments. Katie's Foundation is proactive and very involved in the community. On May 12th, 2012 the Foundation is sponsoring a 5K run to benefit child safety. In July they are holding their annual Butterfly Release to help generate awareness for child safety. For more information on Katie's Foundation for Child Safety visit http://www.katieeliselambert.org.
The Hangman Store provides an array of wall art décor and home theatre component hanging hardware including:
TV Wall Mount Hangers and Speaker Wall Mount Hangers featuring our Simple Mount TV Hanger.
Heavy Mirror and Picture Hangers.
Picture and Craft Hanging Hardware that works with aluminum frames, picture hanging wire, D-Rings, Sawtooths and Keyholes.
Canvas Art Hangers for Framed and Unframed Canvas Wall Art, Giclee and Gallery Wraps.
Unframed Paper Art including Prints, Posters and Photographs using tape that will NOT damage walls.
Multiple Picture Frame Hanging kits
The Hangman Store also provides Clip Strip Paper and Note Holders.
The Hangman Store is a retail e-commerce business that is open 24/7, 365 days a year selling Hangman Products hardware, systems and kits. They were established in 2007, headquartered in Woodland Hills, CA and managed out of the Philadelphia, PA area. To learn more about the Hangman Store visit http://www.hangmanstore.com.