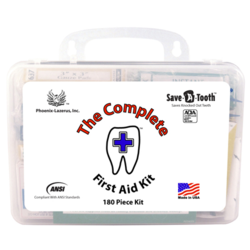 An increase in the number of missing teeth seems to be related to an increase in memory loss
Wayne, Pa (PRWEB) April 25, 2012
In a large study of 9,853 people (Mathews JC et al. JADA 2011;142;379-390), the number of lost teeth a patient had was correlated with cognitive tests. The participants were asked to respond to memory tests of 10 words in a standardized CERAD test. They were asked to repeat the words several times over an interval of five minutes.
The results showed that with an increase number of missing teeth, the test scores dropped. However, the results were not correlated with the socio-economic status of the participants. This study as well as other dental information can be found on the dental blog, Facebook/Save-A-Tooth.com
Over five million teeth are knocked out annually in the United States during sports, automobile accidents and in the home. With the use of a new scientific storage device, "Save-A-Tooth®," over 90 percent of these teeth can now be successfully stored, preserved and reimplanted. Without this system, only ten percent of knocked out teeth can be successfully reimplanted since they begin to die within 15 minutes and must be placed in a nourishing medium within an hour of the accident. A knocked out tooth that can't be successfully be reimplanted translates into an average expense of $3,000 in treatment and $30,000 over a lifetime.
The Save-A-Tooth® system can be obtained alone or it is found in the best selling first aid kit, "The Complete First Aid kit". So having a Complete First Aid kit may help save future memory retention.
"The dated concept of placing knocked out teeth into a fluid like milk does not take into account the potential damage that can occur on the way to the dentist. This explains the previous dismal ten percent success rate of reimplanted knocked out teeth, he explains." Dr. Krasner stresses that it takes a systematic approach to save knocked out teeth, which only a Save-A-Tooth® provides.
There are countless places along the transport path to the dentist at which irreversible damage to the knocked out tooth can occur. If the storage fluid spills or the glass container shatters, the chain, only as strong as its weakest link, will be broken and failure after reimplantation becomes more likely.
Once knocked out teeth are placed into a Save-A-Tooth®, however, they are safe and protected from these harmful weak links. A parent or ambulance driver can attend to a suffering accident victim without having to worry about the knocked out tooth. In fact, once placed in a Save-A-Tooth®, knocked out teeth are safe for 24 hours.
"Being informed and prepared for a tooth being knocked out can mean the difference between a lifetime of dental problems and gigantic dental bills" says, Dr. Krasner. "Millions of teeth are knocked out every year but can be saved if people know what to do when an accident occurs," he adds.
"The Save-A-Tooth® is not merely a better storage fluid but an entire scientific system that provides the maximum potential for successfully saving knocked out teeth", Dr. Krasner explains.
Thirty years ago, milk was the recommended as the best storage medium for knocked out teeth, but this is now considered by leading dental trauma experts to be an inferior method. Unfortunately, it is still being recommended despite the availability of superior methods. Milk is limited in its effectiveness because it lacks necessary nutritive factors for keeping teeth alive.
Dental research has shown that the best storage medium for knocked out teeth is a fluid called Hank's balanced solution. It has the ideal concentration for tooth root cells and contains all of the metabolites and energy that knocked out teeth need to stay alive for 24 hours. This fluid, along with a cushioning, suspension and retrieval apparatus, is found in the Save-A-Tooth®.
Dr. Henry Rankow, a diplomate of the American Board of Endodontics compares Save-A-Tooth® and knocked out teeth with an EpiPen and allergies. In both cases time really matters and states that, "homes, sports teams, hospital emergency rooms and ambulances should have a Save-A-Tooth® on hand ahead of time. That's why people should have the Complete First Aid kit at home, in their cars, sports team bags and schools."
Phoenix-Lazerus, Inc. is the manufacturer and distributor of the Save-A-Tooth® emergency tooth preserving system and The Complete First Aid kit. The Save-A-Tooth system is the only system of its type that stores and preserves knocked out teeth for 24 hours until they can be reimplanted by a dentist.