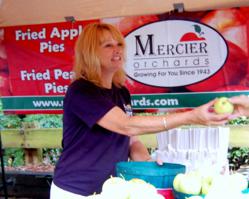 The Village Festival is yet another fun endeavor that enhances Big Canoe appeal as a great place to visit or live.
Big Canoe, GA (PRWEB) April 24, 2012
Enjoy the ideal mountain day trip to the Village Festival, just outside the gates of Big Canoe, an hour north of Atlanta.
The Village Festival is another feature in Big Canoe's ever-growing array of fun endeavors. The market-style gathering is free and open to the public, every Saturday from 9 a.m. to noon through the end of October. A tantalizing lineup of vendors will offer farm fresh vegetables, flowers, plants, grass-fed beef and lamb, fresh shrimp and crabs, honey, jams, pottery, baskets, crafts, jewelry and more. Mercier Orchards will have a booth offering apple-icious delights.
Keep in mind, Big Canoe was awarded the prestigious 2011 Community of the Year by the Greater Atlanta Home Builders Association.
Vendor location maps are available at Big Canoe Realty booth. For information and directions, call (770) 893-2733.