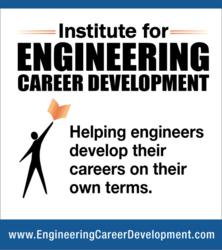 We discovered that creating an online forum where like-minded engineers could interact with each other has proven to be a huge benefit.
Ridgewood, NJ (PRWEB) April 24, 2012
Developing a successful engineering career is something that Anthony Fasano, P.E., engineering career development strategist and author of Engineer Your Own Success: 7 Key Elements to Creating an Extraordinary Engineering Career, is an expert on creating. In February of this year, Fasano launched the online Institute for Engineering Career Development™ (IECD), and the demand from other professional engineers was so high he is pleased to announce that a new online platform/site has now been developed (http://www.EngineeringCareerDevelopment.com).
This innovative and affordable engineering and personal development program has been redesigned specifically for engineers who desire to improve their soft skills and leadership abilities in order to advance up the corporate ladder in their designation. Utilizing the power of the web, IECD's platform consists of monthly live, content-rich webinars with Fasano, a licensed professional engineer, accomplished speaker, and executive coach. To meet the demand of providing additional quality content, Fasano has expanded the list of guest expert speakers who will be presenting workshops to the IECD's members to now include Brad Fox, Ph.D., Associate Dean and Executive Director of Professional Masters Programs in the Pratt School of Engineering at Duke University; Susan de la Vergne, Instructor/Consultant at Auxilium, Inc.; Christian Knutson, P.E., PMP, Post President of the American Society of Military Engineers and author of the popular blog The Engineer Leader, and Bernard Telatovich, P.E., J.D., Professional Engineer, Lawyer and Founder of Consulting Services and Investigations.
By offering a three-tiered membership site, the IECD provides monthly live webinars or teleseminars, monthly live coaching calls, access to the IECD private members forum, as well as special bonus calls with guest speakers on relevant topics to help members in the development and advancement in their chosen career. Some of the topics that will be addressed include how to become a clear communicator; the need for honing your networking skills to build solid professional relationships; conflict resolution techniques, and why sharpening your public speaking skills is a must to excel in the field of engineering.
In addition, the newly revamped IECD online community will also have access to a private social networking community that contains more functionality to allow for more interaction between members. "We discovered that creating an online forum where like-minded engineers could interact with each other has proven to be a huge benefit," says Fasano. "Basically this network allows individuals the opportunity to ask questions of their peers and receive valuable feedback, similar to the environment found in Mastermind groups. However, one of the main benefits of belonging to our group is that instead of having access to a limited number of people, in our forum members can interact with hundreds of other professionals. And the number of people joining the IECD is growing daily."
Fasano is so sure of the success of this program that he is offering an ironclad guarantee. If after three months of utilizing this program, members don't witness any improvements in their career or personal development, they are eligible of a full refund. Engineers can become members of the Institute for Engineering Career Development ™ community for as little as $10 per month and immediately start improving their soft skills and leadership abilities through monthly webinars and executive coaching. Fasano also offers executive coaching through the IECD, both live and through email for those who desire one-on-one training to fast track their progress from engineer to manager.
To join this vibrant community of like-minded engineering professionals and jumpstart your career advancement today, visit http://www.EngineeringCareerDevelopment.com.
Anthony Fasano, AKA Your Professional Partner, CEO and founder of Powerful Purpose Associates, is a nationally recognized professional coach and inspirational speaker specializing in the area of engineering career development, as well as leadership skills. Fasano has been a keynote speaker at hundreds of events and has had a huge impact on many professionals including engineers in their transition from engineer to manager. Fasano sends out brief but powerful daily e-mail messages to professional's worldwide called A Daily Boost from Your Professional Partner, which help inspire professionals to career success. To sign up for these motivational tips, go to the Free Career Resources page at http://www.PowerfulPurpose.com.