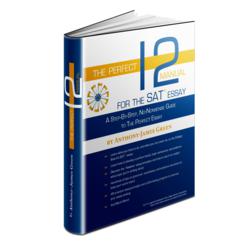 Your SAT essay doesn't need to be interesting or "well-written" - it needs to be long, and it needs to be well structured. The rest is irrelevant.
New York, NY (PRWEB) April 24, 2012
The SAT Essay has plagued countless students since its introduction in 2005. Since the newest version of the SAT was released, the essay portion of the SAT has been a controversial and confusing addition to an already challenging exam. Yet one New York SAT tutor encourages students not to fret. Anthony-James Green, hailed by some as the best SAT tutor in the country, has just released a new book, The Perfect 12 Manual, that promises to get even the most writing-challenged students the scores that they're looking for.
"If this essay actually gauged students' writing abilities, then students who weren't talented writers would have reason to worry," says Green of the SAT essay. "Fortunately, it doesn't." Green maintains that the essay for the SAT tests one thing: a student's ability to create a coherent "thread."
"The College Board needs a way to grade millions of essays objectively. How do you provide SAT essay scores objectively? By coming up with objective grading criteria. The College Board has done a brilliant job of this, but it has absolutely nothing to do with what most people would associate with actual writing quality." Green insists that the grades students receive on their SAT essays are based purely off structurally-based criteria to avoid subjectivity.
"If a grader were a Republican, and a student wrote an essay praising Obama, it would be a huge problem if there were any subjectivity allowed in the grading process," says Green. "Therefore, students can't gain points for "saying smart things" or "making excellent points," since those are entirely subjective evaluations. Instead, students start with a perfect score, and they lose points for every objective mistake that they make."
The mistakes that students can lose points for on their SAT Essays include "lack of a clear thesis," "lack of a coherent thread," and "lack of supporting evidence." These mistakes aren't up for debate - a student either has a clear thesis with evidence to support it, or he does not. The one issue that seems to baffle students, however, is the issue of length: despite certain objections to the contrary, it seems that longer SAT essays lead to higher SAT essay scores. This news has been reported previously, and confirmed by multiple different sources:
http://abcnews.go.com/GMA/ConsumerNews/teen-student-finds-longer-sat-essay-equals-score/story?id=12061494#.T5ZJ5KveDiQ
"The problem with writing longer essays," says Green, "is that longer essays allow writers to make more mistakes than they otherwise would. A short essay can be tight, structured, and flawless. The more lines a student adds to her essay, however, the more likely it is that she'll go off topic, include irrelevant information, or break her thread. I wrote the Perfect 12 Manual to how students how they can add significant length to their essays without committing the "objective sins" that the College Board penalized students for in the first place."
The Perfect 12 Manual, Green's guide to breaking down the essay for SAT students, advises its readers to follow an exact, linear template, and to add length only into the areas in which excess verbiage can't possibly break the essay's flow.
"If a student writes a paragraph with a clear topic sentence that relates to the thesis, he then has an opportunity to explain that topic sentence's relevance. Next, he has an opportunity to provide evidence for the validity of that topic sentence. So long as he does that, he can say as much as he wants."
Green advises students to "stuff" their essays with relevance and evidence information in precisely the right places. Regardless of the SAT essay prompts provided, students can still manage to "fudge enough information" to create a long essay while not breaking their overall structure.
To see SAT essay examples and to download free sample chapters of the Perfect 12 Manual, students can visit Test Prep Authority, Green's free, online resource for SAT and ACT prep. Users can also download free sample chapters of the Perfect 12 Manual, complete with a basic SAT essay practice prompts, by downloading the copy attached to this release. More information on the Perfect 12 Manual can also be found using the following link:
http://www.testprepauthority.com/SAT-essay-guide/
Anthony-James Green is the president of Test Prep Authority, author of The Perfect 12 SAT Essay Manual, and head tutor at New York's Best SAT Tutor.