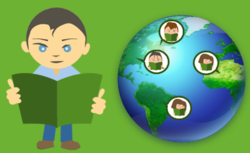 professional certification is the quickest way of increasing earning potential and convincing an employer of an applicant's value to the company, it has become an indispensible line item on the resume
Pittsburgh, PA (PRWEB) April 24, 2012
Postings for high-paying jobs consistently demand up-to-date industry certifications that designate the applicant as a trained, educated and experienced PMP, CCNA, ITIL, CPA, MCSD or COMPTIA. CIO Insight identified the PMP designation in particular as one of the salary-boosting IT certifications for the project management professional ready to take a career to a higher level. Other highly desired certifications mentioned include the MCSE, A+ and Network+. For the worker currently stuck in a job that does not allow for regular course attendance, discovering how to study for a test tied to a certification can be difficult if not impossible. Compounding this problem are pressures the professional experiences outside of work. With a likeminded study partner who faces similar difficulties, studying suddenly becomes fun, possible and easier to do.
MyStudyPartner.com offers a unique benefit for anyone in need of a new career, a new job or a highly desirable promotion. Since a professional certification is the quickest way of increasing earning potential and convincing an employer of an applicant's value to the company, it has become an indispensible line item on the resume. Earning this certification does not have to cost a lot of money. There is no need to pay for a classroom experience for academic help and personal motivation. One or more study partners in the jobseeker's neighborhood can offer the same benefit. Whether it is a college admission exam, an IT certification, the renewal of a professional license or the first time that an applicant would earn a certification, My Study Partner connects professionals. These connections provide a personal incentive to continue the certification process, study assistance for the rough patches, and emotional support when testing day nears.
Best of all, it is up to each professional how to interact with available study partners. The jobseeker in need of a lot of support may opt to connect with numerous local professionals who are studying for the same certification. Some choose to meet face to face in coffee shops or at restaurants to go over material and quiz one another. Others enlist the aid of online meeting applications to study at set times and interact by online chat or email. Anyone can custom-tailor the experience to meet specific educational needs and learning styles. "After studying with your partners for however long it takes, you'll find that the exam you were once worried about taking is no longer a threat. Studying in groups of 2 or more has proven to increase your odds of success while taking any type of test or exam," MyStudyPartner.com explains.
Best part is, MyStudyPartner.com offers its service free of charge. Wait no more. Take the first step of boosting your career by joining MyStudyPartner.com or visit them on Facebook today