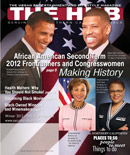 Sacramento, CA (PRWEB) April 25, 2012
Sacramento Mayor Kevin Johnson, will provide opening remarks at the 2nd annual Northern California Black Physicians Forum (BPF) on Friday, April 27 at the UC Davis School of Medicine 4610 X Street, in Sacramento from 6:30 – 9:30 pm in the evening.
The purpose of the Forum is to connect physicians with colleagues throughout Northern California to discuss physician leadership and potential collaborative roles in chronic disease education, policy change, prevention, and improve health equities in communities of color. Attendance will include clinicians, medical students, nurses, and other health professional throughout Northern California. The 2012 Forum is hosted in part by Sac Cultural Hub Media Foundation, UC Davis School of Medicine, Sierra Health Foundation, the United States Air Force, American Cancer Society, and a number of other community partners.
The 2012 theme is: "Physicians leading the way to reduce health disparities in the Urban Community. Taking preventive measures to moderate high blood pressure, tobacco use, improve health inequities, and healthy eating." The BPF platform includes our Master of Ceremonies: Dr. Thomas Hopkins, MD, Internal Medicine Physician & Chief Medical Correspondent for KCRA 3 in Sacramento to lead discussion and introduce the 2012 Keynote: Dr. Bill J. Releford, DPM, Medical Director of the Releford Food & Ankle Institute & Associate Professor for the Office of Research and Health Affairs at the Charles Drew University of Medicine and Science in Los Angeles. Additionally, a panel of renowned physician presenters will educate colleagues on current development in chronic diseases, best practices in treatment, and highlight nontraditional community service projects in African American communities. Panel presenters for the Forum include:
Dr. Valarie Yerger, "Tobacco Use & Smoking Cessation" – Dr. Yerger is a licensed naturopathic doctor and assistant adjunct professor in the Department of Social and Behavioral Sciences at the University of California, San Francisco.
Dr. Darin Latimore, "Increasing Racial & Ethnic Diversity among Physicians" – Dr. Latimore is the director of Medical Student Diversity and associate program director for the UC Davis Internal Medicine Residency Program.
Dr. Yinka Davies, "Healthy Eating & Nutrition" – Dr. Davies is in Pediatric Gastroenterology at Sutter Health
The 2012 Forum will host two award ceremonies. The 2012 Northern California Black Physicians Forum "Visionary Awards" presentation will celebrate two physicians who lead by example in their commitment to medical leadership, progressive treatment, and community based outreach services for the underserved. The "Black Physicians Forum Medical Student Scholarship" will award two $1,000 scholarships to assist African American students in meeting the financial needs of attending medical school.
Registration is open only to physicians, health care professionals, and medical students. RSVP online at http://www.sacculturalhub.com/events/black-physicians-forum. For more information, call 916-470-2337 or email contact(at)sacculturalhub(dot)com.
About Sac Cultural Hub Media Foundation
The Sac Cultural Hub Media Foundation was created in 2003 to develop programs that mentor young adults and women of color in under-served communities. The Foundation has implemented programs in partnership with corporations and businesses to promote mentorship, higher education, provide entrepreneurship opportunities, further diverse partnerships, encourage collaboration in the community, offer educational workshops and exceptional signature events that include: Exceptional Women of Color (EWOC) Networking Brunch Conference, Hub Choice Awards (HCA), and the Black Physicians Forum (BPF). Our mission is to provide exciting non traditional vehicles of engagement where businesses and non profit organizations can market services and products, mentor those in need, and provide public service information to educate and inspire the urban community. The Foundation's primary goal is to motivate and empower African American professionals, communities, and youth to thrive and succeed in life. http://www.sacculturalhub.com/916/media-foundation
About UC Davis School of Medicine
The UC Davis School of Medicine is among the nation's leading medical schools, recognized for its research and primary-care programs. The school offers fully accredited master's degree programs in public health and in informatics, and its combined M.D., Ph.D. program is training the next generation of physician-scientists to conduct high-impact research and translate discoveries into better clinical care. Along with being a recognized leader in medical research, the school is committed to serving under-served communities and advancing rural health. For more information, visit UC Davis School of Medicine at http://www.ucdmc.ucdavis.edu/medschool.
About Sierra Health Foundation
Sierra Health Foundation is a private philanthropy with a mission to invest in and serve as a catalyst for ideas, partnerships and programs that improve health and quality of life in Northern California. Sierra Health is committed to improving health outcomes and reducing health disparities in the region through convening, educating and strategic grant making. Since 1985, Sierra Health Foundation has awarded $83 million in cash grants to 855 nonprofit organizations. The Foundation also provides in-kind meeting and event space for nonprofit organizations through the Conference and Convening Program. Each year, approximately 15,000 people attend meetings held at Sierra Health. Our funding region includes 26 counties in the northeast part of the state. http://www.sierrahealth.org