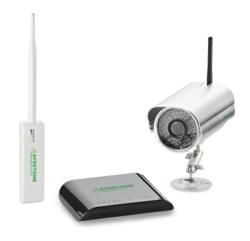 Minneapolis, MN (PRWEB) April 25, 2012
After only a month of availability, the Ayrstone AyrScout™ Outdoor Camera is listed as a #1 Hot New Release by online retailer amazon.com. With the Ayrstone AyrMesh™ WiFi system and AyrScout Cameras, people living and working in the country can keep an eye on what's happening on their farm or ranch, business or country home from just about anywhere. See the Amazon.com Hot New Releases list at: http://tinyurl.com/hot-ayrscout.
Listed at the top of the category called Bullet Surveillance Cameras, the AyrScout Outdoor Camera is part of a new product line introduced by Ayrstone Productivity in March. The WiFi systems company focuses on products for homesteaders and landowners who want the benefits of WiFi and monitoring across wide open spaces. See the Ayrstone products at http://www.ayrstone.com.
Ayrstone products are designed for people who appreciate the convenience of WiFi technology, but not the hassle of setting it up. "A novice can easily set up the Ayrstone AyrMesh™ WiFi system," says Mitchell Earl, president of Advanced PC Solutions, Inc. in Hendersonville, NC. "If you can plug in an Ethernet cable and operate a web browser, you can set up an AyrMesh WiFi system."
The foundation of the AyrMesh system is the AyrMesh Router. It provides the brains to easily configure the AyrScout™ WiFi Cameras and the AyrMesh Hub. Two AyrScout Cameras are available. The indoor camera option has pan and tilt capability allowing a viewer to control what the camera sees. A stationery, weatherproof AyrScout Camera can be mounted inside or outside. Both AyrScout Cameras work with the AyrMesh WiFi network to allow remote viewing from a home WiFi network or the Internet.
When installed within range of an AyrMesh Router or within about a half-mile range of an AyrMesh WiFi Hub, AyrScout Cameras stream what's in view to a computer or Internet capable device like a smartphone. By installing additional AyrMesh Hubs a WiFi signal can be extended up to 6 miles; providing the WiFi connection needed for an AyrScout Camera to be installed and relay images from several miles away. Learn more about the Ayrstone Productivity WiFi networking and camera systems at http://www.ayrstone.com.
The Ayrstone AyrMesh WiFi system and AyrScout Cameras are designed for people living and working in rural areas. All Ayrstone Products are backed with a 90-day satis-faction guarantee or your money back. Ratings tabulated from user reports on Amazon put the Ayrstone AyrMesh system at the highest ranking in customer satisfaction. Find the Ayrstone AyrMesh WiFi system on the Internet at http://www.ayrstone.com, Amazon.com and on Facebook. Ayrstone Productivity LLC, is based out of North Oaks, MN.