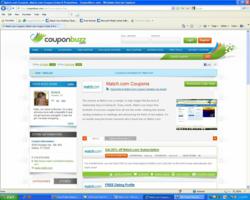 Internet savvy consumers are starting to realize that their dating life is an area where they could be saving serious money
Houston, TX (PRWEB) April 24, 2012
Today CouponBuzz.com announced they would be featuring a new Match.com coupon which offers users worldwide a free dating profile on the online dating website. Currently one of the largest in the world, Match.com was founded in 1995, and pioneered the subscription model now practically universal among internet dating and personals service websites. The link to setting up a free profile can be found on CouponBuzz.com's new webpage dedicated to special offers from Match.com.
Online shoppers at CouponBuzz.com can use the new Match.com coupon featured today to set up their online profile absolutely free, which enters them in the database of Match.com, and allows them to browse through other users' profiles. With hundreds of profiles from possible 'matches' at their fingertips, complete with photos, short essays, and easily browsed information, users find that online dating takes a lot of the guesswork out of the dating process. Not to mention the awkward moments, weird silences, and plain old boredom.
"More and more people are discovering that it's actually really nice NOT to shell out $60 bucks on dinner for a date that can only be described as an 'epic fail,'" said Justin Bowen, a representative for CouponBuzz.com. "Online dating websites like Match.com represent an internet business sector that is growing exponentially. We feature Match.com coupons and special offers on our site precisely because there is such a high demand for them. Internet savvy consumers are starting to realize that their dating life is an area where they could be saving serious money by a little judicious pre-screening before they set up an in-person meet."
The Match.com coupon featured today directs users to set up a free profile. Although the initial profile will be free, initiating emails and contacts with Match.com users in the database does require a full subscription. In addition, a subscription is necessary to fully utilize the many tools the site offers. However, this is just an example of how the new CouponBuzz.com approach to streamlining the shopping experience for their customers is amazingly effective. Their new merchant specific web page for Match.com showcases not only the link for a free profile, but another recent promotion for 20% off the initial subscription fee for the site. CouponBuzz.com's new page for Match.com coupons is located at http://couponbuzz.com/match.com-coupons.html.