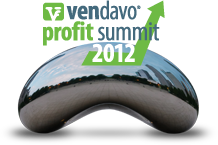 We will demonstrate how our pricing solutions are bringing Sales and Marketing together around shared profit goals.
Chicago, IL (PRWEB) April 24, 2012
Vendavo®, the world's leading provider of Price Management and Optimization solutions for companies that serve businesses (B2B), announced the kick-off of the largest conference ever organized in the B2B pricing solutions space. Vendavo Profit Summit, April 23-25, 2012 in Chicago brings together the largest ecosystem in B2B pricing. The world's leading companies in pricing will showcase their latest solutions and pricing strategies at Summit including SAP, the platinum sponsor, Accenture, Deloitte, and IBM, the gold sponsors, and Hitachi Consulting & Marketing Associates, the silver sponsors. The Professional Pricing Society will also sponsor Profit Summit 2012 to underscore the important educational opportunities available to raise pricing and profitability competency.
"Profit Summit is THE event to connect with the biggest B2B brands are who profiting from pricing solutions," said Jamie Rapperport, Vendavo's founder and EVP of Marketing and Business Development. "The conference highlights amazing customer case studies of implementing and profiting from Vendavo and SAP pricing solutions from Emerson, Molex, Office Depot, Dow, Seagate, and Eastman, just to name a few."
The emphasis of this year's Profit Summit is using pricing goals to align Sales and Marketing efforts. "With our many customer presenters and partners, we will demonstrate how our pricing solutions are bringing Sales and Marketing together around shared profit goals," said Ken Pulverman, Vendavo's Vice President of Marketing.
Vendavo and SAP's solutions tackle big data to find and profit from pricing opportunities. Optimizing price is the fastest approach executives can leverage to increase company profitability.
"We have an amazing line-up of customers and leading experts to create a fantastic learning and networking opportunity – the best I have ever seen assembled," said Neil Lustig, Vendavo's CEO. "I am particularly excited about seeing Oakland A's General Manager Billy Beane's presentation. He'll be speaking about the Art of Winning an Unfair Game, a timely story many business leaders can relate to. Also Jeanette Horan, IBM's CIO will speak about the largest ERP deployment in the world, which Vendavo is delighted to be a part of. Our goal is to provide a year's worth of pricing education in less than two days. Our customers tell us we hit that mark at last year's Summit. We will exceed expectations this year."
To learn more visit http://www.vendavo.com/summit.
About Vendavo
Vendavo is the leading provider of Price Management and Optimization solutions for large enterprises worldwide. The company's solution drives bottom-line results by giving businesses true enterprise-wide control of their entire pricing process. Vendavo's enterprise-class software solution delivers big increases in profits—from 10-30 percent—by systematically driving incremental improvements in average prices throughout the pricing process. Vendavo is the enterprise pricing solution of choice for more than 200 company divisions at some of the world's biggest names in high-tech, manufacturing, chemicals, consumer products, medical devices, mill products, and distribution. SAP, the worldwide leader in enterprise application software, offers the Vendavo solution as SAP Price and Margin Management by Vendavo™.
Media Contact:
Ken Pulverman
VP Marketing
kpulverman(at)vendavo(dot)com
650-960-4367