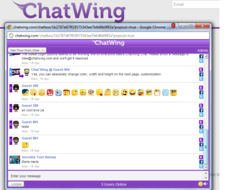 Cambridge, MA (PRWEB) April 24, 2012
Today, writers are not considered expendable. They are the cores of website content, and their words are useful for attracting readers. Web writers usually have tons of workload to deal with and they need to have fresh ideas in order to maintain their credibility and focus. Aspiring writers can now explore a free chat box known as Chatwing. This application makes a blog or website active and transforms it into an interesting chat lounge.
Chatwing is similar to other chat tools out there, but it packs more punch when it comes to global connection. Chatwing is available to most locations all over the world and chatters will never experience cultural or racial barriers. Aside from that, chatters can use cute avatar displays and emoticons to spice up any conversation.
Writers can benefit from Chatwing by visiting any blog or conferring with other visitors. Other writers who used Chatwing created a blog that is meant to attract visitors. Chatwing serves as a 'funnel' for the blog and it will become active in just days or weeks. Of course, the activity of the blog is still affected by the blog entries posted every now and then.
Installing Chatwing for any blog is really easy. First, the user must register his blog or website's domain name. After that, he can now proceed to customization. In the customization phase, the user can modify the height, width, color, and title of the widget. If a title is not provided, Chatwing will generate a random string. Chatwing developers advise users to input a title because this will affect the way visitors see the chat box. Once everything is complete, Chatwing will generate the needed HTML code. Usually, Chatwing goes live in just few seconds.
Another boost for Chatwing's website chat factor is the Facebook log-in method. Through this, guests and visitors can log in using their Facebook accounts. This makes information exchange easy. This also allows the writer to find more Facebook friends on a regular basis.
Some people referred to Chatwing as the chat tool of the future. Chatwing's developers have promised more upcoming developments in few months.
About Chatwing
Chatwing.com has developed live chat software for websites and blogs. The Chatwing.com website offers users the ability to signup and create a customizable live chat feature in 1 minute or less. Users have the ability to customize the size, color, and fonts of the chat product. The ability to chat via social media accounts such as Facebook and Twitter enable Chatwing to offer a personal and unique real-time experience to all sites. Chatwing is 100% free web software.