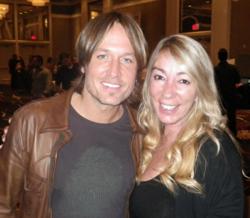 "Permanent makeup is the perfect solution for Whitney. It gives her the consistent look and added confidence in her appearance she needs."
Los Angeles, CA (PRWEB) April 24, 2012
You've heard the joke about someone having "a great face for radio." This time it's no joke. It's real. This time it not about having a great face for radio. It isn't about wanting one either. If you were face to face interviewing Tim McGraw, Kenny Chesney, Keith Urban, or Taylor Swift, you too would be needing to feel like you look your best.
"If we're on location backstage or outside an awards show," says Allen, "sometimes I'm really busy interviewing 15 people a day. In hosting a live radio broadcast you don't have the time or opportunity to check and re-apply makeup. During commercial breaks you're talking with producers, managers, getting guests prepared, and getting ready for the next segment. And whenever we have a guest on the show, we take photos to share with our listeners on our website and social media. I noticed in just about all of the photos with these big stars, my makeup was gone!"
As host and owner of the nationally syndicated radio show, "The Big Time with Whitney Allen," she didn't just fall into big time radio. Whitney worked and talked her way there. From Eureka, California, to San Diego, to Los Angeles radio working with icons Rick Dees and Scott Shannon, she hit the national airwaves with her show six years ago as a trusted voice of Music City. The savvy show business woman knows image is important, and not just with country stars. She meets with executives at her syndication company and radio stations, producers, talent managers, fans, and advertisers.
"Permanent makeup is the perfection solution for Whitney," says permanent makeup artist Sally Hayes, who has worked on celebrities from Los Angeles to New York among her tens of thousands of procedures since 1988. "It gives her the consistent look and added confidence in her appearance she needs." Allen now agrees. "I've had many friends get permanent makeup done and said it was painful," she claims. "I was online for months researching permanent makeup. Some photos I saw were horrifying, even those of permanent makeup artists with a good reputation. None of it looked natural. I found Sally Hayes on YouTube. Her photo gallery, knowledge, and skill is amazing."
Whitney waited 6 weeks for Hayes to return to her Permanent Makeup Los Angeles location. She also has Permanent Makeup New York, Permanent Makeup Scottsdale, and Permanent Makeup Las Vegas locations. "Whitney's permanent eyeliner is undetectable," says Hayes.
"And now she no longer has to worry about embarrassing smudges, smears, or run-offs."
"I have been extremely happy with it. No pain. No problem," says Allen. "Every day since I was 15, eyeliner has been the one go to for my appearance. And Sally Hayes is my one go to for permanent eyeliner. Now I wake up in the morning and feel like I exist. The other woman I was my entire life was still in the makeup bag. I didn't exist until she came out."
Like many other women in Southern California, Whitney Allen had done years of applying eyeliner while driving or sitting in traffic on Los Angeles freeways. "The worst part of it was when I was rushing and didn't realize the tip of my eyeliner pencil had broken off, and I poked myself in the eye with a wooden stick," she admits. "I did that one too many times while driving. That was actually the last straw for me. But now with permanent eyeliner it's all in my rear view mirror."
About Sally Hayes Permanent Makeup
Sally Hayes is the permanent makeup industry's leading expert artist. She is referred and endorsed by many of the top cosmetic surgeons in the country, and has successfully performed tens of thousands of permanent makeup procedures since becoming a full-time permanent makeup artist in 1988. Her popular website is viewed as the leading online authority for information and advice on permanent makeup, eyebrow tattoos or permanent eyebrows, permanent eyeliner, permanent lip makeup, and cosmetic camouflage permanent makeup.
For more information, visit http://www.permanentmakeup.com.