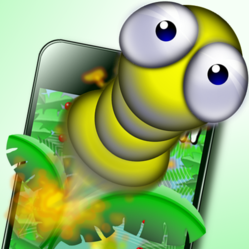 Baltimore, MD (PRWEB) April 24, 2012
Hyperkani, a Finland-based game publisher, is announcing the migration of its wildly successful Worm Jump franchise to iOS. Players will hop, skip, and jump in this fast-paced vertical action game. They will navigate their way through a forest maze of bombs, berries, and balloons as they jump even higher and avoid falling down or hitting the swinging spiky fruit. Worm Jump makes full use of the iOS accelerometer, allowing players to control their Worm by tilting their device left or right. To us, the gameplay feels similar to other games like Doodle Jump, Mega Jump, or Hedgehog Launch.
The iOS version of Worm Jump features enhanced graphics, new game features, and better sound effects. According to the lead designer, "We put a lot of time and effort into building the iOS port for Worm Jump, focusing on the things iOS users like to see in games – more features, an immersive game experience, and upcoming integration with the Game Center so users can compare scores with their friends."
The game has received rave reviews from around the Web – many calling it the most addictively fun game on Android. More than 1.5 million played it on Android and Symbian, and many of these users now have iPhones. The migration to iOS will allow Worm Jump to continue growing its fan base while giving old fans that have left the Android platform another way to play. At release, scheduled for May 1, Worm Jump will be available to play for $0.99. We're confident that the iOS launch will introduce many new gamers to the Hyperkani Worm Jump franchise and to the other games Hyperkani has released.
Device Requirements:

iPhone, iPad, or iPod touch
Requires iOS 3.0 or later
11.7 MB
Pricing and Availability:
Worm Jump is $0.99 (USD) and available worldwide exclusively through the App Store in the Games category. Review copies are available on request. Word Jump is also available for Android.
Worm Jump
http://hyperkani.com/joomla/index.php?option=com_content&view=article&id=103&Itemid=75
Purchase and Download
http://itunes.apple.com/us/app/worm-jump!/id508887867?mt=8
Screenshot 1
http://a3.mzstatic.com/us/r1000/069/Purple/v4/db/db/25/dbdb2566-4ad9-c4dc-af95-90d130d4942f/mza_9002891951462456109.320x480-75.jpg
Screenshot 2
http://a5.mzstatic.com/us/r1000/065/Purple/v4/61/13/c2/6113c204-fd17-4c57-eff3-9f077a814c82/mza_8894321383335756572.320x480-75.jpg
Hyperkani was established late 2009 by three experienced developers located in Tampere, Finland. The company's initial game releases on the Symbian platform met with enormous success and enabled the company to grow. Hyperkani is now adapting their games to be featured on more mobile platforms, including Android and iOS.