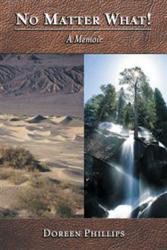 LAS VEGAS (PRWEB) April 25, 2012
To paraphrase Langston Hughes' poem "Mother to Son", life for author Doreen Phillips has not been a crystal staircase. "It's had tacks in it / And splinters, / And boards torn up, / And places with no carpet on the floor." But, as Phillips proves throughout her new memoir, No Matter What!: A Memoir (published by CrossBooks), she's "been a-climbin' on."
Phillips' childhood was marred with abuse, neglect and betrayal. Phillips would later in life find solace in drugs, alcohol and transient lovers. But, she notes, God had a plan for her.
With an open, honest style, Phillips offers a poignant glimpse into her diverse life experiences. As she narrates how she walked along a rocky path through life when the people closest to her caused her to question everything, Phillips highlights the life-changing moment when she eventually heard God knocking on the door of her heart and was rescued from a black hole of shame and guilt. As she discovered healing and a love she never knew existed, Phillips shares how she began a new journey guided by Scripture and the quiet voice of God that soon taught her to look for love in all the right places.
With the release of No Matter What!, Phillips hopes readers will be inspired to right the wrongs in their own lives. "I want them to know that they too can have healing," says Phillips.
About the Author
Doreen Phillips hopes that her personal story will inspire hope, forgiveness and healing in others. She currently resides in Las Vegas, Nevada, with her husband and two of her five children.
CrossBooks, a division of LifeWay Christian Resources of the Southern Baptist Convention, is a Christian publishing imprint committed to bringing more Christian voices into the publishing industry. Established authors, first-time authors, and authors anywhere in between can meet their goals and fulfill their vision for their books by publishing with CrossBooks. CrossBooks' innovative style of publishing blends the best of traditional and self-publishing. While our authors contribute monetarily to cover the cost of publishing, we maintain a strict moral and quality standard that every manuscript must meet for us to publish. For more information on publishing your Christian book with CrossBooks, log on to crossbooks.com or call 1-866-879-0502.
###