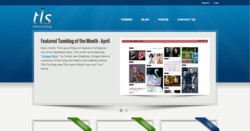 The social media and blogging landscape is a constantly growing and developing
Los Angeles, California (PRWEB) April 26, 2012
The Layout Shop has officially launched the new blog section of their website. This section will feature posts about social media like news, rumors, instructional pieces, and other special pieces to the Tumblr theme service.
This new blog section comes along with the site's new redesign and its new forum section, all of which were first announced in March and launched just last week. The new site sports a completely overhauled look and design.
Website Manager Nicolas Camp says, "What we're looking to do with the new blog section is to give our users and regular visitors something more to do in the site over just browsing our selection of Tumblr themes."
"We're hoping to jumpstart a small community within the site with extra content that we feel may be of interest to our users," adds Camp.
The blog section will be updated regularly so that users of TheLayoutShop.net can look forward to seeing something new every time they visit the site. Content to look forward to are news, reviews, previews and rumors about social media and social networking.
Lead Web Developer Ken Morales says, "The social media and blogging landscape is a constantly growing and developing. Part of why we want to do the blog is to keep our users informed and engaged in blogging and social networking."
Along with the blog, the site will host a number of regular features starting off with their Tumblog of the Month, which will highlight a different Tumblr blog from one of their users.
Look forward to the sites upcoming features on their blog section here.
About the Layout Shop
TheLayoutShop.net is an online Tumblr theme store specializing in professionally made and customizable Premier and Free themes for Tumblr. The site also features a tech blog about blogging and social media.
###