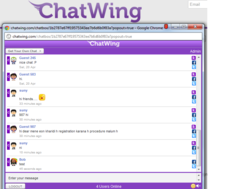 Dallas, TX (PRWEB) April 24, 2012
Online entrepreneurs are aware that in order to make a break in the industry, their businesses must have visibility. The main way to create an online presence for a business is to create a blog or website. The process does not end there, however. A blog or website needs to be active in order to surpass competition. This is the reason why the developers of Chatwing upgraded their free chat box. In the latest release, the Chatwing widget is faster and has a more stable connection.
Chatwing is all about global connection and how to foster it. This is why many online entrepreneurs have chosen the widget for their blogs. They need an immediate solution on how to connect with large groups of people. Chatwing may appear simple and fancy to some, but its platform can definitely help out online professionals.
One of the best factors of Chatwing chat box is the Facebook log-in method. Through this option, users and visitors can log in using their Facebook accounts. This makes profile information exchange easy. Now, chatters can send out invitations to the friends they made using Chatwing.
Easy installation and usage is another factor that contributes to Chatwing's overall rank. Installation of the Chatwing widget can be summed in three basic steps: registration, customization, and actual embedding. Once embedded, the Chatwing widget usually goes live in under few seconds.
Website chat definitely attracts a lot of visitors for any blog. Once a blog has enough visitors, the online entrepreneur can market his products and services easily. Plus, he can now develop a standard clientele without exerting too much effort. Through the Chatwing chat box, he can engage his visitors and give out updates.
Chatwing's overall purple theme is also relaxing compared to other color types. It has been observed that online entrepreneurs prefer Chatwing's original color because it attracts more visitors. Of course, it is still undeniable that the contents of the blog can be major factors for business success. To reach maximum potential, the online entrepreneur can post meaningful messages in the chat box. In that way, the visitors will have more reasons to chat.
About Chatwing
Chatwing.com has developed live chat software for websites and blogs. The Chatwing.com website offers users the ability to signup and create a customizable live chat feature in 1 minute or less. Users have the ability to customize the size, color, and fonts of the chat product. The ability to chat via social media accounts such as Facebook and Twitter enable Chatwing to offer a personal and unique real-time experience to all sites. Chatwing is 100% free web software.