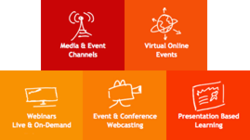 WorkCast have seen growth of over 150% in Sales for 3 consecutive years
Durham, UK (PRWEB UK) 26 April 2012
WorkCast New Business Sales have grown by over 150% for the 3rd successive year showing strong demand in the product and an increasing profile in the market.
"The last 3 years results have been excellent given the economic backdrop and we expect this growth to continue in the coming year. The financial performance of WorkCast shows how we have developed market leading solutions and services that our customers are realising real return on investment from" said WorkCast Managing Director, Gerard Callaghan.
WorkCast has continued to build on its success in the Online Events Market by winning new clients such as Sony, BBC, Ford, Serco, HP, Google, SSE, EDF, Aon and the NHS. WorkCast have seen over 120% growth in the number of clients that use their services and over 200% growth in the number of Online Events run on the WebCast Manager platform.
"We expect 2012/13 to be another excellent year for WorkCast as we continue to invest in the platform and organisation to support a greater number of event styles and features that are being requested by our customers" said WorkCast Commercial Director, Barney Brown.
Using the WebCast Manager platform, customers can manage Video, Webinars, Webcasts and Virtual Event microsites and campaigns controlling features such as:

Custom and Bespoke Branded Registration Processes
Live, Scheduled Replay and On Demand Events
Custom Branded Video, Event and WebTV Channels
Full reporting of Viewers, Attendees and Customer Interactions
"WebCast Manager is a platform that can drive tangible ROI through its ability to manage and serve up dynamic content, deliver world class online events but also allow real time reporting and interaction, says Barney Brown'