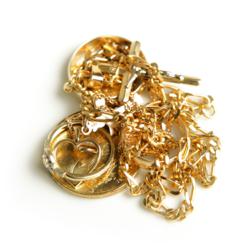 The guide covers current gold prices, selling gold online, having your gold valued, sourcing trusted pawn brokers such as those who belong to the national pawnbrokers association
(PRWEB UK) 25 April 2012
Cash4mygold have just produced a complete beginner's guide now available on their website for customers considering selling their unwanted gold but are unsure on how to do so. The guide is a useful reference for customers whether they are considering selling their gold to them or to another pawn broker. What the guide does provide is handy tips about selling online, valuing gold and the general process of accepting an offer.
Today many people seriously consider selling their unwanted gold to raise some extra funds, but are unsure which company to use. It is vital that you choose an experienced and reliable gold buyer. Gold is still benefiting from the view the global economy is fragile, but the idea has been shaken by signs that conditions are stabilizing in the U.S. So now is still a good time to sell gold, but prices will no doubt decline in the future. As a result, more people now sell gold simply by exchanging unwanted gold for cash.
The guide covers current gold prices, selling gold online, having your gold valued, sourcing trusted pawn brokers such as those who belong to the national pawnbrokers association and the process of receiving and accepting an offer. The guide can be used generally for those needing advice on how to go about selling gold.
About Cash4MyGold as a company
Cash4MyGold has a history of over two decades in the pawn broking field. They are members of the Consumer Credit Trade Association and are a division of the TGS group. TGS are a respected and recognised pawn broking company, so customers can have complete confidence that they will treat all their customers with respect and always offer fair and competitive prices for their gold.
Cash4MyGold has been in the pawn broking business with a high street presence for more than 20 years and have built up a great reputation. They now offer an online service for their customers to sell their gold. Customers will receive an offer and, at this point, they are free to either accept or reject it. However, Cash4MyGold are confident that the majority of customers are pleased with their offer, but still offer no obligation to sell. They also have a price guarantee so will also match and beat any other high street chain. Click Here for the full sell gold beginners guide.