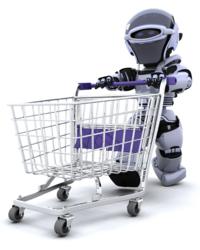 What we are doing with self-service kiosks managed by Genkiosk is to make benefits available to everyone. Everywhere.

Marek Narkiewicz, CTO, Genkiosk
Sheffield, UK (PRWEB) April 30, 2012
Genkiosk, the leaders in self-service kiosk software has announced new services specifically aimed at the growing market in kiosk applications designed for retail.
Genkiosk is the most powerful management system for self-service kiosks, and James Oladujoye, CEO of GWD Media (the Genkiosk developers) outlines how the market is rapidly growing: "Nothing stands still any more, and retail is especially dynamic because of the fierce competion. My own shopping habits have been completely transformed since I became a father. Nowadays I only go to the supermarket in the middle of the night. And I always use the self-service checkouts: my time is precious! Those changes are even more marked in the world of retail kiosks, where we are seeing two distinct major growth trends: standalone and assisted."
Standalone kiosks are used independently by shoppers to browse, order and pay for whatever they want - and are especially popular in regions with low domestic Internet provision.
With assisted kiosks - which may function exactly the same, technically, as the standalone variety - the key difference is that both customer and sales assistant interact together with the kiosk.
In both scenarios, Genkiosk kiosk software maximises up-time and profitability, and self-service kiosks offer major advantages over the more traditional forms of shopping:

superb product knowledge: no human can possibly know more
stock-outs can be removed from promotion: why display something you cannot sell?
up-selling: statistical analysis shows that kiosks are better at it than people (whether it's persuading users to add fries to their burgers, or spend more on a cell phone with additional features.)
Jed Fraser, Chief Marketing Officer of Genkiosk emphasizes that the sector is growing everywhere, but in distinct ways per geography: " I am just back from the Philippines for example, and I was really taken by two implementations there. In one, a chain of convenience stores supplemented their offering via retail kiosks selling a much broader range of goods - and the part that I really liked was that goods were delivered to the store, prompting a return visit .... and extra sales like refreshments. In a second example, OFWs (Overseas Filipino Workers) are buying groceries via kiosks located abroad, and the food is collected by friends or family in Manila: the objective is to overcome situations where money was transferred home, then misspent by the recipients."
And Marek Narkiewicz, CTO at Genkiosk sees his work there as an extension of his personal life to the world: "Me? I hate going to the shops. Ever. That's not how I want to spend my time. So I buy everything online. And what we are doing with self-service kiosks managed by Genkiosk is to make the same benefits available to everyone. Everywhere."
Genkiosk, from GWD Media was first developed to run and manage pay-as-you-go Internet kiosks.
It has now grown to cover the full range of self-service sectors and applications:
Paying bills
Printing photos
Accessing the Internet or information
Transferring money
Browsing and shopping.
After launching in Europe, it expanded first to the Americas, then the Middle East and beyond, going global via multinational customers and now with direct clients as far afield as Fiji in the South Pacific.
Genkiosk is delivered via the Cloud, maximising service and availability in every region of the world.
VeoVend, the sister of Genkiosk, provides the same monitoring and management services for more traditional vending (snacks, drinks, beverages, retail.)
A hardware plug-in, with mobile phone SIM, gives online access to even the most basic vending machine.
GWD Media is headquartered in Sheffield, UK, and operates worldwide.