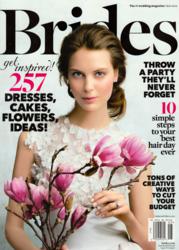 Mobile activated print makes the magazine and wedding planning experience more engaging for brides-to-be and delivers more value to sponsors.
Arlington, MA (PRWEB) April 24, 2012
Brides Magazine, the iconic wedding magazine for brides-to-be, re-launched today with a new look and logo, and is celebrating with a new app for iPhone and Android as well as mobile activated campaigns that span the magazine, on-line content and outdoor promotions. The "We Love It" app and mobile activated print campaigns were built by Boston-based mobile marketing and technology services company Nellymoser.
To activate the mobile content, readers download the free Brides "We Love It" mobile companion app for iPhone and Android devices and scan the pages with branded icons encoded with Digimarc digital watermarks located throughout the magazine. Each scan brings readers to a different sponsor's mobile content where they can register to win prizes, watch videos, get coupons or purchase products. The prizes, sweepstakes, and coupons, including three grand prizes, total more than $100,000 in value.
The May issue of Brides features the largest number of digital watermarks ever printed in a U.S. magazine. Digimarc's digital watermarking technology embeds an imperceptible digital signal into the image that can be detected by the camera in a smartphone, but not by the human eye.
The "We Love It" app leverages Nellymoser's magazine companion app framework and includes a built-in scanner for digital watermarks that makes participation in the mobile campaigns engaging and easy. To enter a sweepstakes, readers need only scan the "We Love It" digital watermarks and enter their personal information once. The information is automatically copied for each entry, making multiple registrations seamless. A built-in History feature lets users keep track of the mobile content they've visited. The Nellymoser Mobile Engagement Platform ensures an optimal user experience by detecting the phone, network and connection speed in real-time to create the best possible presentation on virtually any mobile device.
Advertisers taking part in the "We Love It" campaign include DeBeers, Cuisinart, OPI, Clarisonic, Waterford, The Container Store and more. In addition to advertisers' offerings, Brides Magazine is further enticing readers to scan the "We Love It" icons by giving away three grand prizes to the readers who have the 10,000th, 20,000th and 50,000th scans. Grand prizes include an elfa closet from the Container Store, a $2,000 shopping spree at Zales and a seven night stay at the CasaMagna Marriott Puerto Vallarta Resort & Spa.
"We were thrilled that Brides selected us to build this branded magazine companion app and mobile campaigns for their May magazine re-launch," said John Puterbaugh, Founder and CEO of Nellymoser. "Mobile activated print makes the magazine and wedding planning experience more engaging for brides-to-be and delivers more value to sponsors."
"Given the importance of our May re-launch, we were determined to create a memorable and fun experience for our readers," said Michelle Myers, vice president and publisher of Brides. "Nellymoser took our creative and developed a high quality mobile campaign that excites both our readers and sponsors."
Watch a short video of the Brides "We Love It" mobile experience.
About Nellymoser
Nellymoser Inc. (http://www.nellymoser.com), a mobile marketing and technology services company founded in 2000 and headquartered in Arlington, MA, turns printed action codes (e.g., 2D bar codes, QR codes, digital watermarks, SMS) into instant, interactive consumer "engagements" on mobile phones. These range from contests and product videos to interactive multimedia engagements that can be shared on social media (e.g., Facebook and Twitter) and include e-commerce for instant product purchases. Nellymoser's customers include leading publishers, advertisers, retailers, and consumer packaged goods companies.