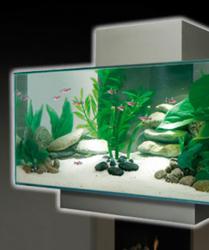 Swallow Aquatics' customers love the element of style that the Fluval EDGE brings to their homes
London, UK (PRWEB UK) 26 April 2012
It seems that aquariums are no longer just for hobbyists or lovers of aquatic life. UK retailer Swallow Aquatics has recently reported a huge surge in consumer demand for home aquariums, thanks in part to the recent introduction of trendy "designer aquariums", like the enormously popular Fluval EDGE series.
Managing Director at Swallow Aquatics, Nick Seaby said "Over the last year we have seen a fantastic 20% growth in sales of small complete aquarium kits like the Fluval EDGE. While most aquariums require an array of parts to get started, designer aquariums like the EDGE come fully equipped, making them more accessible to the average consumer. And they're also very stylish too".
Swallow Aquatics' customers say the appeal of the Fluval EDGE lies not only in the fact that it is very easy to assemble and maintain, but also because it has a strong aesthetic appeal. Some customers have even reported that the aquarium is so visually stunning that it instantly becomes a talking point with house guests.
The Fluval EDGE was released in 2009, by Canadian company Hagen. Unlike other aquariums, the water level in the EDGE goes all the way to the top of the tank, giving the appearance of a complete cube of water. Coming in both 23 and 46 litre models, the EDGE also features 360 degree viewing angles, a hidden filtration system, and ultra bright lighting that casts a shimmering glow over the aquascape within.
While the Fluval EDGE aquarium comes in one complete package, consumers can still take pride in tailoring its appearance to suit their own personal tastes. With a choice of three colours, including glossy white, black and pewter, customers can further customise the EDGE with a range of different accessories, including aquatic plants, rocks and decorative ornaments.
While not all species of fish are suitable for small aquariums like the Fluval EDGE, a wide range of popular cold water fish are able to call the tank home, including White Cloud Mountain Minnows, Betta Splendens, Barbs, Danios and Dwarf Mosquitos. Tropical fish like Galaxy Rasboras and Boraras are also suitable, but require the purchase of a separate heater. Fortunately Hagen has designed one especially for the EDGE that doesn't detract from its striking contemporary appearance.
While the Fluval EDGE's unique features are likely what has made the aquarium so popular, another reason may be its price. The RRP for 23L editions is just £133.99, although Swallow Aquatics' customers fare even better - the high demand has lead to the retailer being able to offer the same edition for just £99.99.
While the popularity of the Fluval EDGE only seems to be increasing, it will still likely be sometime before designer aquariums go completely mainstream. This is great news for existing owners - the EDGE's head turning effect on their house guests may still last for a little while to come.
For more information on the Fluval EDGE series of designer aquariums or to order online, please visit http://www.swallowaquatics.co.uk/.