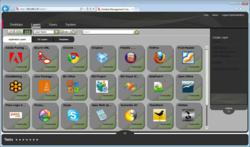 Our workers now have access to the same desktop from anywhere, without lugging laptops from center to center or headquarters, and without waiting for the IT department to catch up to their needs.
Marlborough, Mass. (PRWEB) April 24, 2012
The State of Ohio Department of Developmental Disabilities (DODD) has been named a 2012 Laureate by IDG's Computerworld Honors Program for its successful implementation of a 1,500-user Virtual Desktop Infrastructure (VDI) project featuring virtual desktops created and managed by Unidesk® desktop layering software. Honoring visionary applications of information technology promoting positive social, economic and educational change, the Computerworld Honors Program awards will be presented on June 4, 2012, in Washington, D.C.
According to Bryant Young, CIO at Ohio DODD, "To better fulfill our agency's mission, we want our professionals spending their time helping our developmentally disabled clients, not waiting for PCs to boot, applications to be delivered, or problems to be fixed by the IT department. With our new virtual desktops, our workers now have access to the same desktop from anywhere, without lugging laptops from center to center or headquarters, and without waiting for the IT department to catch up to their needs. We're delighted to be recognized by Computerworld for our VDI initiative, and appreciative of the support we've received from our vendors in making this project a success."
Serving more than 90,000 developmentally disabled citizens across the state, Ohio DODD completed its one-year VDI initiative in January 2012, selecting Unidesk® to provision and manage Microsoft® Windows® 7 virtual desktops deployed on VMware vSphere™ virtualization infrastructure, securely accessed through VMware View™ desktop virtualization software, and hosted on HP blade servers connected to WhipTail and Dell Compellent storage.
Ohio DODD credits Unidesk for enabling its IT staff to vastly reduce the cost and complexity of managing and maintaining desktop computers while giving end users a VDI experience the organization maintains is equal to or better than a traditional PC. The number of desktop gold images has been reduced from dozens to one, greatly reducing the amount of time spent patching desktops each time Microsoft releases a new service pack or hot fix. More than 65 applications have been packaged centrally using Unidesk layering technology to streamline application delivery. The time required to provision new desktops has been reduced from an 8-hour cycle to about 30 minutes. Efficiency improvements like these have helped Ohio DODD reduce the cost of desktop operations by an estimated 10%, while helping the IT organization make better use of its personnel and evolve from a task-oriented group to a more strategic operation.
"We have a support person located at each of our sites," explains Sue O'Conner, Support Service Manager, Ohio DODD. "If that person is tied up provisioning new desktops, other users' needs have to wait. And we often have only a day's notice of new hires, which doesn't give us a lot of time to plan. But that's not an issue anymore with desktop virtualization."
Unidesk layering technology offers a simpler alternative to typical non-persistent virtual desktops, providing equivalent storage savings and the desktop personalization needed to satisfy Ohio DODD's wide range of users, including nurses, safety consultants, business analysts, administrators, office staff, IT, developers, and executives. Unidesk persistent virtual desktops retain all user customizations -- including the user-installed applications required by DODD IT administrators and power users. The agency's 65+ applications are layered with Unidesk in the same time it takes to install the applications once on a regular desktop – typically less than 30 minutes. Once layered, applications can be assigned to one or more desktops without reinstallation. Desktops can be created, patched, and updated in batch or one at a time simply by combining the Windows 7 gold operating system layer with different application layers. Unidesk's ability to share common layers across many desktops reduces the VDI storage footprint by as much as 70%.
IT departments in federal, state, and local governments are finding Unidesk a simpler, more cost-effective way to implement VDI so workers can access their desktops from any thin client, PC, or pad that has a network connection, whether in a branch office, on the road, or at home, for greater flexibility and mobility. Unidesk helps build a stronger case for VDI by simplifying application delivery, minimizing gold image management, and reducing the cost of desktop support. For a free whitepaper on how Unidesk desktop layering technology makes replacing more PCs with Citrix® XenDesktop®, VMware View™ and other VDI brokering platforms an easy choice, download "Desktop OpEx Savings: the Key to Cost-Justifying VDI" at http://www.unidesk.com/resources/vdi-opex-white-paper
About Unidesk
Unidesk Corporation (http://www.unidesk.com) enables customers to centralize more desktops on data center servers and build a stronger business case for Virtual Desktop Infrastructure (VDI). Unidesk® desktop management software for VDI is the easiest way to create, patch, personalize, and support desktops and deliver applications for organizations implementing hosted virtual desktops on VMware vSphere®. By using Unidesk's patent-pending desktop layering technology with Citrix® XenDesktop®, VMware View™ and other VDI access solutions, customers can expand VDI to more users, reduce desktop operations costs up to 30%, cut VDI storage costs up to 70%, and foster a more productive, agile workforce. Unidesk Corp. is a privately-held company with headquarters in Marlborough, Mass, USA.
Unidesk is a registered trademark of Unidesk Corporation in the United States and/or other jurisdictions. All other trademarks and registered trademarks are property of their respective owners.