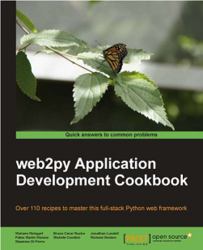 Birmingham, UK (PRWEB) April 24, 2012
Packt released a new book on web2py this month, Web2py Application Development Cookbook. The book is written by a number of web2py core developers including the lead developer of the project Massimo Di Pierro. This cookbook includes effective recipes ranging from building advanced forms to creating PDF reports, from teaching readers about the database abstraction layer to adding AJAX effects; all of this explained with numerous code examples to help readers gain expertise in web2py.
Web2py web framework is a free open source full-stack framework for rapid development of fast, scalable, secure and portable database-driven web-based applications. Web2py was inspired by Ruby on Rails (RoR) and Django frameworks. Like RoR, it focuses on rapid development, favors convention over configuration approach and follows Model–View–Controller (MVC) architectural pattern.
The book is designed in cookbook style with recipes to give its readers the necessary knowledge to enhance their web2py skills. It begins by showing readers how to run web2py in different systems followed by building simple applications. Next, the book focuses on database abstraction layer, and building advanced forms. It then progresses to show how to add different AJAX effects using third party libraries and recipes on web services. Before finishing off with useful tips and tricks, readers learn about authentication and authorization followed by routing and reporting.
Web2py Application Development Cookbook is now available in print version, and popular e-book formats. For complete information about the book, please visit the Packt web-page.
The cookbook covers the following chapters, complemented with good amount of code examples and relevant screenshots:
Ch 1: Deploying web2py
Ch 2: Building Your First Application
Ch 3: Database Abstraction Layer
Ch 4: Advanced Forms
Ch 5: Adding Ajax Effects
Ch 6: Using Third-party Libraries
Ch 7: Web Services
Ch 8: Authentication and Authorization
Ch 9: Routing Recipes
Ch10: Reporting Recipes
Ch11: Other Tips and Tricks
Packt has published over 24 books and eBooks on Python and related technologies till date. A complete list of these titles can be found here.