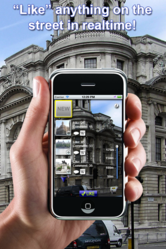 Put your "Like" on to anything on the street!
Budapest, Hungary (PRWEB) April 26, 2012
3D Magic Kft., the Hungary based independent developer and publisher of highly successful iOS apps and games, is pleased to announce its newest Social Networking application called "Realikety". The name of the App is constructed from the words 'Like' and 'Reality'. It is an Augmented Reality application, which connects users in real time to "like" and "share" anything they see on the street, just by facing their cameras to buildings, monuments, trees, phone boots or anything they want.
No Facebook is needed and "liking" is not limited to virtual things anymore. The time of "liking" only websites, videos and written words of friends on the internet is over for ever. There are no "share" or "login" buttons, no menus or scrolling down for old posts anymore. Everything happens in real time. Number of "likes" and comments for the same object can be seen just by facing the device toward said object.
An intelligent integration of Wikipedia extends usability by providing useful information with a single button click. GPS and geolocation makes it easy to find "liked" things and if wanted, Facebook integration allows to share everything with friends as well automatically. Photos can be saved on the device.
Features:

"Like" anything in realtime on the street
Comment what you "Like"
Read other people's comments in realtime
See what other people "Like" in realtime
Post your "Likes" to Facebook
Save Photos in your camera roll
Get Wikipedia entries for famous tourist attractions in realtime
Device Requirements:

iPhone, iPod touch, and iPad
Requires iPhone OS 4.3 or later
2.4 MB
Pricing and Availability:
Realikety 1.0 is Free and available worldwide exclusively through the App Store in the Social Network category. 3D Magic is present on Twitter and Facebook as well.
3D Magic Kft. is an independent Game Development Studio based in Budapest/Hungary, founded in 2002. Copyright (C) 2002-2012 3D Magic Kft. All Rights Reserved. Apple, the Apple logo, iPhone, iPod and iPad are registered trademarks of Apple Inc. in the U.S. and/or other countries.