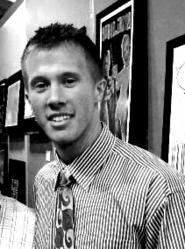 The simplest logos are often the most memorable, and consequently the most successful
Nashville, TN (PRWEB) April 25, 2012
Horton Group has promoted Jason Hapney to design lead. Graphic designer Hapney plays an integral role in the creation of attractive and functional web pages and brands for Horton Group clients. Often misinterpreted by the conventional internet user, website design and web development are not one in the same. They are, however, closely related and at most times codependent. Both require high levels of creativity along with the ability to take abstract concepts and make them exist as tangible objects out in the real world.
Before a website goes live it has to take shape through specific design elements. Project manager Kim Christen said, "Our Web Developers manage and create the backbone of the website and Jason dresses them in a style that keeps customers coming back."
"The first thing a potential customer is going to think about when they visit your website is how it looks," said Hapney. "The name of the game is conversion. It is almost guaranteed, if your pages are poorly designed the user won't stick around long enough to learn about your product or services. You might have a better product at a better price than your competitors, but if their website is more attractive, they look more professional, they get the business."
Not only does Hapney have the ability to create engaging web design, he is also skilled in building brand recognition for clients through memorable logos and appropriate design collateral. "The simplest logos are often the most memorable, and consequently the most successful," says Hapney.
Humans are visually driven beings and always have been, from cave paintings to the ceiling of the Sistine Chapel to the latest in high definition technology. "Jason is somewhat of a double threat," says Horton Group developer Rudy Barrett. "He is a great designer, but he also has a sixth sense for marketing. He designs with a purpose and a vision."
Hapney honed his design skills while attending Western Kentucky University where he received his bachelor's degree in graphic design. When he doesn't have his nose to the grindstone, Hapney enjoys going to the gym, and obsessing (admittedly) over UK basketball.
The Nashville advertising agency has helped businesses and entrepreneurial endeavors grow by designing websites with professional appeal and consistent branding. They offer marketing materials and resources of all kinds including media buying, search engine optimization and email marketing.
For more information about Horton Group's design and branding campaign services contact the firm either by phone at 615-292-8642 or by email at info(at)Hortongroup(dot)com.