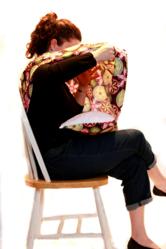 It's hard to believe nobody even knew who we were or what a Covillow was a year ago.
Austin, TX (PRWEB) April 25, 2012
Covillow, LLC, a woman-owned start-up based in Austin, TX, celebrated its one year anniversary since revealing its first landmark breastfeeding product last year at the Big Austin BIG| idea day 2011. Big Austin, a Small Business Administration Women's Center, was instrumental for Candice to find the resources used to launch her patented invention. Covillow manufactures a proprietary breastfeeding cover and pillow-in-one, with a goal to help all mothers achieve their breastfeeding goals, by helping address, the social, emotional, and practical challenges women face when breastfeeding in public.
Since the official launch of the Covillow June 1, 2011, Covillow finished 2011 with a multitude of prestigious awards and recognition and has had a very strong start in the first quarter 2012. Without even celebrating its first year anniversary, Covillow received the Mom's Choice Award® Gold, the highest honor given by the Mom's Choice Awards, a globally recognized organization for establishing the benchmark of excellence in family-friendly media, products and services. The organization is based in the United States and has reviewed thousands of entries from more than 18 countries, with an esteemed panel of judges including Julie Aigner-Clark and Dr. Twila C. Liggett, the founder of Baby Einstein and Reading Rainbow respectively. During Covillow's retail product launch at the world's largest baby and kids tradeshow in Louisville, KY, Covillow was mentioned as a favorite in the New Products Showcase. Covillow was recognized by thebump.com, an exceptionally popular website for expecting mothers, and was named a breastfeeding best buy. Numerous bloggers have also expressed raving reviews about Covillow and how it addresses fundamental unmet needs breastfeeding mothers have that aren't currently met by existing products.
"It's been such a busy year since Big Austin Idea Day 2011, it's hard to believe nobody even knew who we were or what a Covillow was a year ago", said Mompreneur Candice Boehm, Covillow, LLC Founder and CEO. "I've always had a passion to help others and what better way to answer that calling than to help other moms and babies achieve something so special and meaningful." Candice went on to explain her disappointment of how some moms that breastfeed in public are sometimes treated and how those instances translate into discouragement and insecurity amongst future mothers contemplating breastfeeding. Her hope is that Covillow will be viewed as the standard solution for addressing those social, emotional and practical challenges modest moms face when breastfeeding in public. Candice believes Covillow's success will not be defined by how many Covillow's are sold, but by how many breastfeeding women are helped as a result of her invention. Based on the feedback thus far, Covillow is well on its way to accomplishing that goal.
Covillow, LLC was founded and established in 2010 by Candice Boehm, a stay at home mom and breastfeeding mother of two turned entrepreneur. Her passion to help others, experience being a mother of two, and her desire to be an entrepreneur, led her to the founding of Covillow, LLC. More information about Covillow, LLC can be found on its website at http://www.covillow.com powered by Volusion. Covillow can be purchased on the company website, Amazon, and select boutique retailers throughout the country.
This release is for information purposes only and contains forward-looking statements of the company. A variety of factors could cause the company's actual results and experience to differ materially from the anticipated results or their expectations expressed. Additional information regarding those factors is available upon request.