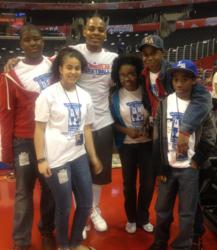 Newark, NJ (PRWEB) April 25, 2012
Randy Foye continues to give youth from his hometown of Newark, NJ once-in-a-lifetime opportunities to learn and grow.
Earlier this year, the students in the Randy Foye Foundation's Assist 4 Life program got the surprise of their lives when Randy invited them to spend their spring break in Los Angeles. The 5 students from Dr. E. Alma Flagg Elementary School in Newark, NJ spent 4 days in LA hanging out with Randy and his family. For several it was their first trip on an airplane and for everyone, it was an experience they will never forget.
The Assist 4 Life students visited many popular destinations including Disneyland and Universal Studios. In addition to riding the amusements and taking an animation filled studio tour, they visited Hollywood where they received a guided tour of notable buildings and stars' homes. Students took pictures in front of the landmark Hollywood sign and along the Walk of Fame with their favorite stars, then matched their handprints against those of celebrities outside Grauman's Chinese Theatre. They also visited Creative Artists Agency where they received a tour of CAA's breathtaking facilities, learned about careers in the sports and entertainment industry and watched a private screening of The Lorax in CAA's amazing theater. Downtime was spent driving go-karts, swimming and playing basketball.
The highlight of the trip was attending the Clippers vs. Lakers game at the Staples Center! The kids got to watch their role model, Randy, in action and were treated to some special perks like sitting on the Clippers bench for pre-game warmups to this "Battle of LA." Randy gave each of the students one of his game jerseys, and they were interviewed on the jumbotron by the Clippers in-game pep team. The students then got to high-five the Clippers players as they took the court for the game. The arena was electric and it was a great game. Afterward, they said goodbye to Randy as he headed back out on the road for his next game.
"[Starting the foundation] has meant a lot, not only to me, but to my family," Foye said in a recent interview with Eric Patten for Clippers.com. "Understanding the position I've been put in, going to college, graduating, and receiving a degree, and understanding that I was in a position to give back, so that was something that I needed to do because there are so many kids that are unfortunate that grow up in urban areas."
The foundation's next event, Regina's Run, is Sunday June 3rd at Branch Brook Park in Newark, NJ. This 5k run/walk is a partnership with the Children's Hospital of New Jersey at Newark Beth Israel Medical Center. Named in honor of Foye's late mother, Regina's Run welcomes participants of all age and skill levels for the 5k and children's 1 mile fun run. Participants are encouraged to bring their families out to enjoy a beautiful day in the park promoting healthy lifestyles and raising funds for two great organizations.
Register for Regina's Run by visiting our page on Active.com or contacting the Randy Foye Foundation (732-576-8181 or info(at)randyfoye(dot)org) to request a brochure. Registration fee is $25 per person; or sign up your team of 10 runners for $200. Participants can also use fundraising tools to secure sponsorships for their participation and help raise even more money for these two great causes. In an effort to promote healthy lifestyles among today's youth, the children's 1 mile fun run is free for kids ages 12 & under.