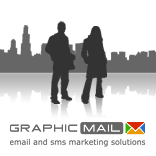 With Connect +, users can now share and leverage content resources around the globe with incredible ease and efficiency.
(PRWEB) April 26, 2012
GraphicMail, a leading global hosted email marketing solution, today announced the release of a groundbreaking new tool that delivers the reach and intimacy of social publishing to the email marketing sphere: Connect+.
With Connect+, teams can collaborate on email development, contributing their own content or leverage colleague contributions to quickly create an effective email marketing campaign. Connect+ provides an "editor-in-chief" function to ensure presentation format and design consistency. Connect+ was developed in partnership with MessageSherpa, a social publishing application pioneer.
"Social networking has no geographic boundaries, so GraphicMail's global reach in 18 countries made them an ideal fit as a partner for our social publishing application" says Chris Donley, CEO of MessageSherpa. "With Connect +, users can now share and leverage content resources around the globe with incredible ease and efficiency."
Recognizing that all organizations have networks with common communication needs, GraphicMail is committed to developing new products to help businesses capitalize on their connections to improve internal and external bulk email messaging programs and realize shared digital communication goals. Connect+ delivers the tools businesses need to make that happen.
Connect+ is fully integrated into GraphicMail's email marketing platform, adding a social content management system that allows businesses to share content with other members in their network, easily navigate and administer those shared resources and use them to create and distribute new email communication that is integrated with instant Facebook and Twitter publishing capabilities. Connect+ allows organizations to communicate more effectively and efficiently throughout their entire organization.
"It's all about connections and sharing resources," notes Nick Eckert, CEO of GraphicMail. "Every organization has a network that extends beyond colleagues to include suppliers, sales reps and clients. The network influences the organization's vision and goals and its approach to commerce. Connect+ enables the collection of content from across this network so it can be leveraged to achieve the organization's communication objectives."
A flexible, social platform-like content sharing solution, Connect+ is designed for organizations with networks like franchises, chains, distributors, retailers, channel partners and any business association that can benefit from connecting its members via one communal resource repository. Connect+ enables users to improve their messaging through a system that simplifies collaboration with shared access to centralized content and branding elements.
Infinitely scalable, the Connect+ platform can be customized for any organization, regardless of its size or the extent of its communication needs. It is available for both private and open networks. Connect+ is offered in branded and white label versions. Find out more about Connect+ here.
About GraphicMail
GraphicMail is a hosted email marketing solution which lets users design newsletters, manage contact lists and track campaign performance. The platform provides seamless email marketing and publishing features that are easy and affordable enough for small businesses, yet powerful for large companies looking for a corporate-scale solution. GraphicMail offers mobile marketing services, such as bulk SMS / text campaigns and SMS sends with links to mobile sites that can be tracked and analyzed. They also offer social media integrations in the form of social sharing features and social data gathering tools. The company has been used by customers such as, Shell, the American Medical Association and Dell Empower since 2002. The product is available in 11 languages and is represented by 18 offices globally.
About MessageSherpa
MessageSherpa is a Social Publishing platform designed to help organizations communicate more efficiently and more effectively. The application extends the capabilities of traditional email marketing platforms to include powerful Networking, Channel Management, and Partner Relationship Management tools. Present customers include Brewer Yacht Yards, Adopt-a-Pet.com, and US Sailing Team Alphagraphics.