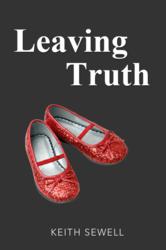 Oxnard, California (PRWEB) April 24, 2012
Atheists, secular humanists, and free-thinkers have been wearing Dorothy's ruby slippers for approximately the past 75 years (since publication of Karl Popper's "Logic der Forschung") and have been lacking only the understanding of how to click their heels together. "Leaving Truth" provides that understanding.
"Leaving Truth" is straight epistemology. It addresses how we can select proposals as knowledge, and the coherent limitations from that on the kinds of proposals that we can select. The main essay demonstrates that we have been maintaining our concept "truth" either redundantly or as an independent and reason-antithetical basis for knowledge, and that the proposals of all of our species' authoritarian systems of emotionally seductive irrationality – in particular, but not limited to, our theistic religions – can only be maintained from this basis. It suggests that our past 250 years of progress in epistemology can be summarized through the injunction that we should stop asking of any knowledge proposal, "Is this 'true'?" and start asking instead, "Can I coherently qualify this as knowledge?" It then illustrates how and why theists cannot do this for their proposals. Its logical core demonstrates that both of the modern epistemological developments that are broadly assumed by theists and atheists alike to support the theists' position—David Hume's dismissal of Induction as our basis for "objective proof", and Karl Popper's demonstration that science can provide only "best present knowledge" as opposed to certainty—do not do so. The essays clearly show that these developments instead undercut the theists' position at a level from which they cannot answer. Essentially, that their justifications for maintenance of their systems can finally be reduced to Tertullian's position "I believe it because it is absurd", which still remains incoherent in that our proposal of even more absurd systems in trivially easy.
The main essay can be read gratis at http://poppersinversion2.blogspot.com. The full collection of essays can be purchased for $1.50 from the eBookIt.com bookstore and all other main e-book outlets.
"Leaving Truth" offers the atheist and free-thought community a prospect for achievement of the kind of clear victory at the intellectual/academic level that it has not dared to hope for since the collapse of the Radical Enlightenment.
About Keith Sewell
Age 58. Lives at the beach, in Oxnard, Southern California. Married, and with three children, but all flown the nest. First career (20 years) living in England and working internationally as a commercial, mixed gas, diver. Ocean Engineering degree at age 42. Then – and to present – ocean engineering and construction consultancy work. Intellectual passion: Philosophy. Initially broad (Bertrand Russell, E. O. Wilson, Karl Popper) but zeroing in during the past decade onto Epistemology. Main hobbies are sailing, SCUBA diving, and motorcycles.
About eBookIt.com
Since 2010, eBookIt.com (based in Sudbury, Massachusetts) has helped thousands of authors and publishers get their books converted to ebook format, and distributed to all the major ebook retailers, including Amazon.com, Barnesandnoble.com, Apple iBookstore, Kobo, Sony Readerstore, Ingram Digital, and Google eBookstore.
###