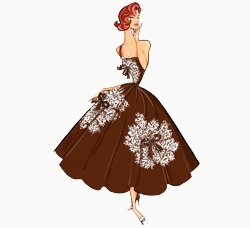 When I meet designers I still get butterflies and when I get a really big hit for our clients. To me, every hit is just like the first time I have ever gotten one. I still get giddy like a schoolgirl.
Boca Raton, FL (PRWEB) April 27, 2012
Noted publicist, Cece Feinberg, recently joined the online fashion retailer, GalleryAtlantic.com, to promote their "Becomes a Stylist" initiative. "Become a stylist" is a social media platform that provides an environment for fashion stylists, trend setters and influencers to use the internet as a tool to promote and share their ideas.
Cece Feinberg, who has been in the PR industry for eighteen years, began her career in the Marketing Department of Vogue Magazine. Today she has her own business which promotes emerging designers by showcasing them in some of the major fashion magazines in the United States, such as VOGUE, LUCKY, PEOPLE, GLAMOUR and INSTYLE.
Cece works closely with her clients. In her own words: "We continually generate creative, innovative, fresh ideas and concepts whether it is in a public relations blitz, a strategically planned public relations campaign, a marketing program or a high profile event; the results are always memorable campaigns and events that maximize exposure for the client while consolidating, projecting and amplifying a brand's desired image in the market." Young, hip, and relevant the company has earned the well deserved reputation as a solid firm that delivers results whether developing new strategies and solutions for top established brands or bringing previously unheard designers into the national spotlight.
Always the hottest ticket in town, Cece Feinberg Public Relations customizes events to communicate the client message. From intimate exclusive editors previews, trunk shows and private collectors events during Art Basel Miami Beach to major fashion shows, movie premieres, charity galas and venue and product launches including Mercedes Benz Fashion Week in New York, Mercedes Benz Fashion Week Miami Swim, and Gen Art events.
Feinberg has her own personal style that she calls "streamlined with a little flourish." She recently did a huge trend report that will be featured on GalleryAtlantic.com Because of her passion for design she believes that stylists can and should be ambassadors of their own products. GalleryAtlantic.com offers them the space, a great way to communicate.
Feinberg lives and works in both New York and Miami. Taking on GalleryAtlantic.com as a client suggests a major endorsement of their product.