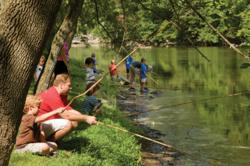 "Why venture farther afield when Hagley has so much to offer: history, science, technology, engineering, horticulture and natural beauty. Once you've experienced Hagley, we know that you'll return," says Geoff Halfpenny, executive director of Hagley.
Wilmington, Delaware (PRWEB) April 25, 2012
Take a respite from the heat at Hagley. This summer there are many reasons to visit.
Hagley's Creek Kids offer afternoons filled with educational fun for families. Make slime, fish in the Brandywine, explore, and enjoy! Summer programs include Innovation on the Brandywine on May 20, The Natural World on June 24, Black Powder on July 17 and July 22, and A Day in the Life on August 7 and 12. Activities are 12:30 to 4 p.m., and are included in regular admission. Members are free.
The Libby Prison Minstrels return to Hagley on Monday, July 9, 6 p.m., for a command performance to mark the conclusion of Hagley's year-long commemoration of the Civil War. Guests can enjoy an outdoor performance of Civil War era music and entertainment in the historic setting of Workers' Hill. Bring a picnic. Bring the family. There will be fun for all! The Belin House Organic Café will be open. Admission is $2 for members, $3 for not-yet-members, and children five and under are admitted free. In the event of rain or excessive heat, please check our website for change of venue information. Reservations are appreciated at (302) 658-2400.
Get outside and get moving on Wednesday evenings in July (11,18, 25, no program on the 4th) and August (1, 8, 15, 22, 29) at Hagley's Bike and Hike. From 5 to 8 p.m., Hagley's property is open for walking, hiking, and biking. Wander along the most beautiful mile on the Brandywine or through wooded trails above the powder yard. Picnic in one of our wooded areas or enjoy dinner on the porch of the Belin House Organic Café. Special programs include the Golden Pheasants Ice Cream Social and Bat Chat on July 25 with Hagley Executive Director Geoff Halfpenny who will repeat the Bat Chat on August 15. On Both July 25 and August 15 Bike and Hike will stay open until 9 p.m. Details at http://www.hagley.org. The property is closed to vehicle traffic. Admission is $2 per person, free for members and children 5 and under.
The museum is located on Route 141 in Wilmington, Delaware. Admission to the entire 235-acre museum is $11 for adults, $9 for students and senior citizens, $4 for children six to fourteen, and free for members and children five and under.
Hagley Museum and Library collects, preserves, and interprets the unfolding history of American enterprise. For more information, call (302) 658-2400 weekdays or visit http://www.hagley.org.