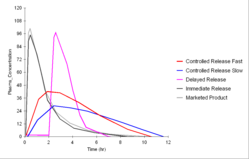 PharmaDirections has a breadth of knowledge that provides a perspective that is hard to duplicate with individual consultants.
Cary, NC (PRWEB) April 26, 2012
Anxieties about blockbuster drugs coming off patent in the pharmaceutical industry have led to many companies looking for alternative barriers to competition for their older products. It has also sparked a renewed interest in finding new indications for off patent drug molecules. These companies are seeking out PharmaDirections to take advantage of their PK modeling tools and formulation development techniques that can lead to new intellectual property or can prolong the market life of old products.
While most new drugs are protected by their composition of matter (COM) patents, their patent life is only 20 years and up to 12 years of that could be used up in development and clinical testing (California BioMedical Research Organization). The companies who need to extend patent life beyond the COM or who have found new indications are increasing looking for new ways to protect their franchise. PharmaDirections provides a multitude of techniques to help them out.
One of PharmaDirections' most useful techniques is combining pharmacokinetic (PK) modeling with formulation development. The scientists at PharmaDirections are skilled in evaluating existing clinical and PK data in order to find problems that can be solved with new approaches. The use PK modeling to find a plasma profile that will solve an existing problem and then work backwards to design a corresponding in-vivo dissolution profile. The formulation development exerts can use that dissolution to design a novel formulation. When the reduction to practice is completed, it is the pharmacokinetic parameters that are claimed which effectively prohibits generic competition. All intellectual property generated by PharmaDirections is considered "works for hire" which means that clients do not have to pay royalties or residuals.
Combining formulation development with pharmacokinetic modeling has led to over 10 patents that have been filed for PharmaDirections' clients. The additional emphasis will allow these techniques to be offered to an increasing number of similar projects.
About PharmaDirections:
PharmaDirections is a consulting and project management company with a unique approach to managing preclinical, CMC and regulatory affairs programs. We provide strategic planning then oversee and direct the pharmaceutical contract research using our own scientific experts and project managers at our sub-contractors. We are a comprehensive R&D resource for pharmaceutical and biotech companies who need drug product development, but want to remain lean and virtual.