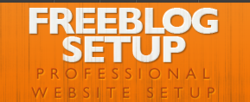 Get a free blog from http://www.freeblogsetup.biz
Cleveland, Ohio (PRWEB) April 24, 2012
By now, just about everyone has heard of a blog. It allows a blogger to share, create, open a place of business and so much more. Finding a place to blog as one will find has no shortages. Many of these solutions either cost a bit of money or you loose rights to your work.
Now a new service from http://www.FreeBlogSetup.biz offers the best of everything. Free website setup and access to loads of designs and features.
What are these great features that makes this service stand out?

Did we mention it is a Free website setup service?
Over 25 training videos
Access to over 1,500 different designs
Over 19,100 add on parts for functionality
Social media integration
The sites are search engine optimized
Normally turn around time is 1-2 business days
Offering a great service like this is what http://www.freeblogsetup.biz is all about. That is why Free Blog Setup .biz is an industry leader who has helped many business and individuals get online. To learn more come see a introduction video at http://www.freeblogsetup.biz