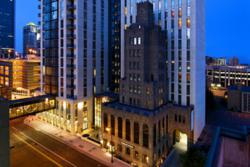 "Michael brings a wide portfolio of experience that we are looking forward to utilizing," said Herve Blondel, General Manager
Minneapolis, MN (PRWEB) April 25, 2012
The Hotel Ivy, a Starwood Luxury Collection hotel in Minneapolis, Minn., has appointed Michael Kappel as Director of Sales and Marketing. In his new role, Kappel will develop sales and marketing strategies as well as lead the sales team in efforts to sell the upscale hotel's 136 guest rooms and 6,000 sq. ft. of meeting space.
"Michael brings a wide portfolio of experience that we are looking forward to utilizing," said Herve Blondel, General Manager of the Hotel Ivy. "We look forward to his contributions to the sales team and the hotel in its entirety."
Before joining the Hotel Ivy, Kappel was the Director of Sales and Marketing at the Hyatt Regency Crown Center in Kansas City, Missouri where he came in over budget on annual rooms revenue for the 733-room hotel multiple years in a row. Other sales and marketing experience include the Hyatt Regency Valencia in Santa Clarita, Cali. and the Hyatt Regency Minneapolis, Minn. He was also a Senior Travel Director at Carlson Marketing Worldwide, planning national and international travel for corporate events. Awards presented to Kappel include the 2005 Hyatt Make a Difference Award and the Hyatt Hotels Sales Team of the Year finalist in 2009.
Kappel was born and raised in Minnesota and he enjoys traveling. Prior to his career in hotel sales and event management he has resided in Keystone, Colo. where he considered himself a "ski bum". He recently returned to his home state where he currently lives with his wife Michelle. They enjoy live concerts and visiting exciting restaurants in the area.
The Hotel Ivy is the only hotel in Minneapolis that has been awarded the Forbes Four-Star award and was voted 2011 Best of the Twin Cities by Minnesota Monthly. To learn more about the Hotel Ivy and to make a reservation, visit http://www.thehotelivy.com or call (612) 746-4600.
About Hotel Ivy – A Luxury Collection Hotel
Part of Starwood's Luxury Collection, the Hotel Ivy in Minneapolis, MN resides in the heart of the downtown scene and holds the only Forbes Four-Star award in the state. A seven-mile skyway connects hotel guests to the nearby Convention Center, Nicollet Mall, Orchestra Hall and the Guthrie Theatre. The hotel fills its 136 guest rooms, including 21 suites, with luxury and finesse with touches that include 10-foot ceilings, fine linen and local artwork and offers over 6,000 sq. ft. of flexible meeting space. Porter & Frye, serving an upscale selection of American Cuisine, provides 24/7 room service and in house dining with creations by Chef Sarah Master. The Ivy Spa Club caters to those in need of the royal treatment, offering exquisite spa services for groups and individuals and a comprehensive fitness center. To learn more about the Hotel Ivy, visit http://www.thehotelivy.com.
###