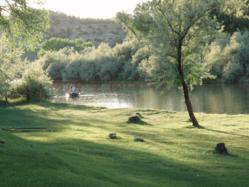 "Farmington's scenic terrain, cool, sunny climate, and affordable lodging are still relatively undiscovered," says Tonya Stinson, Interim Manager of the Farmington, N.M. Convention & Visitors Bureau.
Farmington, N. M. (PRWEB) April 25, 2012
Farmington, in northwest New Mexico, is home to river rapids and rugged trails for ATVs and mountain biking. The city has one of the top public golf courses in the country, Pinon Hills, and there is fantastic fly-fishing on the San Juan River nearby. All are family friendly.
Rafting and paddling on the Animas and San Juan, the rivers which run through the center of Farmington, are generally calm, family-oriented experiences. A 25-mile stretch along the Animas River from Cedar Hill to the White Water Park in Farmington has been rated a class 1-11 section by American Whitewater. A class 11 area runs along the San Juan River, from Navajo Dam for 50 miles through Farmington to the Four Corners.
Each year the joys of life along Farmington's three rivers is celebrated on Memorial Day Weekend with a RiverFest a festival with music, art, food, entertainment, road races, riverside trail walks and river raft rides.
Golf is a year-round sport on the bluffs above Farmington's rivers. Pinon Hills, the city's public golf course, is a natural extension of the Four Corners terrain. The popular and top-rated course, winds through arroyos, surrounded by hills dotted with pinions. Fees there are affordable enough to allow the whole family to play and there are other good courses to choose from.
The quality waters of the San Juan River 30 miles east of Farmington bring anglers to the area from around the world. Big trout are abundant. Fishing guides are easily found and many consider spring the best season. Fishing right in town for bass and trout on Farmington Lake or along the Animas, and San Juan Rivers is as easy as dropping a line from a bank-side bench in Berg or Riverside Park.
Avid bikers give high marks to Farmington's Glade Run, a BLM recreation area with 19,000 acres of slick rock and sandy rolling terrain on the edge of Farmington. The Glade is the site of the annual Road Apple Rally in its 32nd year and considered the oldest mountain bike race in the country. This year on October 6th it will be once again draw mountain bikers of all skill levels to the last great race in the Four Corners before the snow flies. Spring might be the time to make Farmington your base camp and to get out in the Glade to practice for that big race.
Information about recreational activities in Farmington is found here.