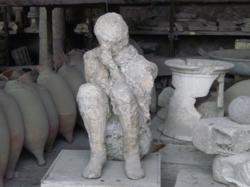 Rest assured, Pompeii remains as it always has – in ruins.
Chula Vista, CA (PRWEB) April 25, 2012
This month the Italian government created a 105 million Euro project to save the archeological ruins of Pompeii. As reconstructions and upgrades continue, explorers of the region will enjoy taking along Barbara Zaragoza's travel guide, which has self-guided tours of Pompeii and Herculaneum as well as a wealth of information about the ancient ruins within the Campania region.
The guide is written for the independent traveler who would prefer to explore the sights on their own rather than follow the stick of a guide. According to Zaragoza, "the book describes the sounds, smells, and quirky history of an ancient world while you walk through the ruins yourself." Pompeii and Herculaneum have comprehensive "What to See" sections. Then, for those who love archeology, many less visited sights, including the Fields of Fire and the Roman villas surrounding Pompeii, are added.
As a freelance travel writer with a Master's degree in European History from Harvard University, Zaragoza wanted to provide just enough history to make the ruins come alive, but not drone on about facts that often are more like best guesses anyway. The book goes on to show how the ancient ruins all around the region inform modern Italian culture. For example, the belief that "old is better" means locals today still use similar wood fire pizza ovens that the ancients used in Pompeii.
Zaragoza doesn't stop at the ancient ruins. Naples, Italy is considered one of the oldest cities in the Western World, so the guidebook also has nine themed tours, such as the odious women, the underground, and an historical tour of Neapolitan espresso. She even maintains that coffee drinking in Campania pre-dated the use of the beverage in the whole of Europe by several hundred years. In addition to her tours, she includes thirty off-the-beaten-track nooks that extend from the ancient coliseum of Capua into the modern places to look for graffiti.
About
Barbara Zaragoza lived in Naples, Italy for three years as a freelance writer. She wrote about the city for many media outlets and also had a regular blog. The Espresso Break: Tours and Nooks of Naples, Italy and Beyond is available in paperback through Amazon.com. You can find more about the author, the book, and Naples travel at http://www.naplesnapoliguide.com.