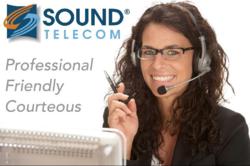 Sound Telecom converts inbound calls to scheduled appointments
(PRWEB) April 27, 2012
Online Trading Academy started its first aggressive national advertising campaign using a variety of innovative infomercial spots. Tony Harkey, VP of Marketing for Online Trading Academy, is leveraging the inbound call center services offered by Sound Telecom to support marketing efforts aimed at growing student enrollment. Tony has enlisted Sound Telecom's professional outsourced call center services because many of the planned infomercial spots are scheduled to run late at night and on the weekends. The program is a success and prospective Online Trading Academy students are enrolling in high-quality financial training coursework 24 hours a day. "The beauty of this support solution," says James Rader, Call Center Manager for Sound Telecom, "is that Online Trading Academy can be assured that prospective students are greeted by a friendly, professional and courteous agent at all times of the day or night."
Sound Telecom works directly with Online Trading Academy's marketing group to create a custom 24/7 end-to-end call center support program to handle calls generated by televised advertisements. "Sound Telecom converts inbound calls to scheduled appointments. Our agent staff integrates directly with Online Trading Academy's Salesforce.com application," says Mason Reinders, Sound Telecom's programming supervisor. "Sound Telecom helped drive registration increases in multiple advertising markets," he adds.
Online Trading Academy's franchise locations nationwide also use Sound Telecom's professional outbound telemarketing services to boost attendance at local Power Trading Workshops, All Star Events and trading seminars. These outbound contact programs quickly increase attendance at local events. This equates to higher attendance and higher enrollments for franchise owners. Sound Telecom regularly increases attendance for workshops held in state-of-the-art Financial Education Center locations nationwide.
Online Trading Academy professionals are on the radio every Saturday morning in selected markets. Trainers offer radio listeners advice and allow folks to call in with questions. When they do call, Sound Telecom is there to answer the phone. "Our answering service programs are designed to fit a particular location's way of doing business," says Brian Gabriel, Sound Telecom's Chief Operations Officer. "OTA has really embraced our live answering services because they are a customer-service driven organization that always wants to put its best foot forward for its students."
The relationship between Online Trading Academy and Sound Telecom started with a simple phone call for after-hours support in 2009. President of Sound Telecom, Michael LaBaw, was up late studying to be a professional trader. He had a question for his instructor so he called the local office. He wasn't able to get through; nor was he able to leave a voice mail. The next day he spoke to the president of Online Trading Academy about the concept of "branding your business phones 24/7." A relationship was formed that day that now involves inbound and outbound customer support on a nationwide basis. Online Trading Academy, founded by Eyal Shahar in 1997, has become a world leader in professional trading and investing education. Mr. Shahar quickly understood the importance of offering 24/7 live support to customers nationwide. Currently, more than twenty Trading Academy locations nationally use a customized form of Sound Telecom's live answering service support.
About Sound Telecom
Sound Telecom is a leading provider of 24 hour Telephone Answering, Call Center and Unified Communication Services, headquartered in Seattle professionally serving thousands of customers throughout the United States and Canada with USA based agents. The twenty-five year old company has offices in Seattle and Spokane, Washington and Denver, Colorado. For more information, please visit http://www.sound-tele.com.
About Online Trading Academy
Online Trading Academy helps their students by revealing the truth about what it takes to become a successful trader or investor. Their core strategy enables traders to identify market turning points before they happen, with a high degree of accuracy. Students learn under the guidance of experienced professional traders in a hands-on, learn-by-doing classroom setting. In the Professional Trader course, students learn trading skills and then practice trading live, in the classroom, without paying commissions or risking their own capital by using Online Trading Academy's money. With over 29,000 graduates, Online Trading Academy offers professional instruction from experienced Wall Street professionals, as well as a wide array of beneficial home study materials to supplement classroom study. Online Trading Academy locations include Phoenix, Irvine, Los Angeles, Concord, San Jose, Denver, Orlando, Tampa, Fort Lauderdale, Atlanta, Chicago, Kansas City, Boston, Baltimore, Detroit, Minneapolis, New York City, Secaucus, Charlotte, Philadelphia, Austin, Dallas, Houston, San Antonio, Seattle, Washington D.C., Milwaukee, Dubai, London, Singapore, Mumbai, Vancouver and Toronto. For more information, please visit http://www.tradingacademy.com.
Contact Information
Sound Telecom
Michael L. LaBaw, President
800-577-1550
http://www.sound-tele.com
Online Trading Academy
Tony Harkey, VP of Marketing
888.841.8418
http://www.tradingacademy.com