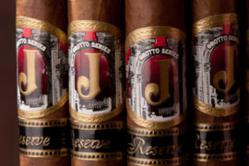 These new brands are really pushing the envelope these days and coming up with some unique and innovative blends.
Albany, NY (PRWEB) April 25, 2012
PipesandCigars.com is an industry-leading online tobacconist, specializing in offering the lowest prices on pipes, pipe tobacco, cigars, and all types of smoking accessories. They also offer the Internet's largest selection of tobacco products, including over 7,500 unique cigar items. However, the growing number of cigar smokers who are constantly seeking new and unknown cigar brands in search of the next "best cigar ever" has spurred PipesandCigars.com to continue adding to their world-class selection.
The most prevalent trend in the cigar industry over the past few years is that smokers are seeking cigars from small-batch, or "boutique", manufacturers. This trend is caused by smokers with more experience who are eager to try a wider variety of blends to further expand their overall cigar experience. These smokers enjoy boutique cigars because the small production scale offers the blenders an opportunity to utilize tobaccos unavailable in large enough quantities for the big production blends, as well as add an extra level of quality control that is simply impossible for a brand that produces cigars by the millions instead of the thousands. Boutique cigar manufacturers have popped up from all over the place to cater to this market, and PipesandCigars.com has responded by adding many of these lesser-known boutique brands to their website.
Some of the most recent boutique additions to the PipesandCigars.com inventory are Emilio cigars, Four Kicks cigars, J. Grotto cigars, Ortega cigars, Paul Stulac cigars, Pura Sangre cigars, Rodrigo cigars, and San Lotano cigars. These additional new brands compliment already popular boutiques on the PipesandCigars.com site like Viaje, Tatuaje, El Primer Mundo, and the widely acclaimed Liga Privada brand. Each brand selected for inclusion on the PipesandCigars.com website has been personally tested and chosen by the experienced staff, who are given the difficult assignment of deciding whether or not a new and unheard of brand is going to become popular among cigar aficionados who enjoy boutique brands.
"Sampling new brands and adding these incredibly high quality products to our website is one of the best parts about my job." Said Travis Lord, Marketing Director for PipesandCigars.com. "When I personally enjoy a product, putting together a sale or a catalog advertisement is incredibly easy. I feel like rather than "marketing" the cigar, I'm just spreading the word about a great smoke to my friends. When we get e-mails and phone calls from customers who were turned on to a new favorite cigar they found browsing our extensive boutique selection, I take a great level of personal satisfaction in knowing that I helped to give that person a special experience."
Mr. Lord was also asked about how these new brands compare to the classic cigar brands that have been in production in many cases since the 1800s, and he had this to say: "These new brands don't take anything away from the classics. Arturo Fuente cigars are always going to be an icon. Padron has produced some of the best cigars in the world for over 40 years and that isn't going to change just because a new company popped up in Nicaragua. However, these new brands are really pushing the envelope these days and coming up with some unique and innovative blends. Nothing can take away the quality and consistency from the established large production premium cigars, but competition always leads to innovation, and in this case more options for the smoker leads to a better educated and more satisfied customer. For real cigar aficionados, there is always room to add in a new favorite without getting rid of an old one."
Customers interested in learning more about boutique cigars can visit PipesandCigars.com or call their knowledgeable customer service team.
About PipesandCigars.com: PipesandCigars.com is an industry-leading online tobacconist dedicated to bringing customers the widest selection of cigars, pipes, pipe tobacco and tobacco accessories. The company features premium cigars from brands like Macanudo cigars, Ashton cigars, Montecristo cigars, Padron cigars, CAO cigars, Arturo Fuente cigars, Rocky Patel cigars, Acid cigars and many more. They are the low-cost leader in pipe tobacco on brands like GL Pease, Sam Gawith, McClelland, Captian Black, Borkum Riff and many more. They feature thousands of pipes, ranging from inexpensive Corn Cobs and Dr. Grabow pipes all the way to the premium brands like Dunhill, Peterson and other fine hand-carved pipes.