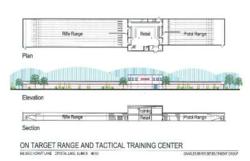 "We offer a safe, family-friendly environment that begins with our indoor and outdoor surveillance system and NRA-certified Range Safety Officers who will monitor the facility for maximum safety"
Crystal Lake, IL (PRWEB) April 25, 2012
Ready, aim, fire! Firearms enthusiasts are anxiously awaiting the opening of On Target Range and Tactical Training Center. The 20,500 square foot state-of-the-art all new Crystal Lake shooting range will feature both a 12-position 75-foot pistol range and a 12-position 150-foot rifle range, a large retail store, a gunsmith shop and several classrooms. Doors are set to open to the public the first week of May, and a Grand Opening Celebration is planned for June 22 and 23, 2012.
Opening at 560 Beechcraft Lane at Knaack Boulevard, just off Route 176 in Crystal Lake, IL, On Target, the first and only indoor shooting range in McHenry County specifically designed and constructed as an indoor shooting range and contains the latest, cutting edge safety, health and targeting technologies to ensure optimal safety and a top notch experience.
On Target's pistol range features an Action Target 25-yard turning Smart Target Retriever controlled by a Smart Retriever Master Control System. These computerized controls allow the shooter to instantly set his or her target in just the right spot. On Target's indoor rifle range allows up to 50 BMG ammo.
"We offer a safe, family-friendly environment that begins with our indoor and outdoor surveillance system and NRA-certified Range Safety Officers who will monitor the facility for maximum safety," says On Target spokesperson Judy Claxton. "We also have installed an advanced ventilation system that moves 75 cubic feet of air per minute across the firing lines, pushing air towards the target, so that lead dust and other potentially hazardous particulates are swept away from the shooter."
On Target Range also houses three classrooms, including one large classroom that can accommodate up to 50 class participants. Among its many course offerings, the Crystal Lake shooting range houses the only firearms training facility in the area that offers a three-day VIP Protection Class for law enforcement and security personnel.
On Target Range will initially offer the following classes:

Gals and Guns I (Beginner Handgun Training for Women) – 4 Hours $125
Guys and Guns I (Beginner Handgun Training for Men) – 4 Hours $125
Gals and Guns II (Intermediate Handgun Training for Women) – 3 Hours $125
Guys and Guns II (Intermediate Handgun Training for Men) – 3 Hours $125
The American Rifleman – 4 Hours $125
Teens on Target (Introduction to Rifle Handling for Teens) – 4 Hours $125
The American Shotgun – 4 Hours $125
The Combat Handgun Shooter – 4 Hours $150
Concealed Carry Weapon – 4 to 5 Hours $150
VIP Protection – 3-Day Seminar $450
*Call for discounts for three or more individuals registering concurrently from a single agency.
On Target will offer the following classes in the near future:
Personal Protection for Women
The Tactical Carbine
The Tactical Shotgun
Shooting in Low-Light Conditions
Hunter Safety
"Seven Rifles that Changed the World"
Ballistic Myth-Busters
"Crack Shots" (an annual competition) Training
"Our firearms trainers are well seasoned, experienced instructors from all shooting backgrounds who have trained firearms enthusiasts all over the world," says Tom Dorsch, Director of Operations at On Target. "Our trainers take pride in their ability to deliver safe, professional firearms education while making the class an enjoyable experience."
Although membership is not required to enjoy all the facilities at On Target Range, members receive special benefits. These include reduced rates on the range, priority online scheduling, four guest passes per year, free use of vision and hearing protection equipment, discounts on select non-sale, in-stock merchandise and a choice of an On Target hat or polo shirt.
For more information about On Target Range, please call (815) 477-2020 or go to http://www.ontargetsite.com.
About On Target Range
On Target Range is a 20,500 square foot indoor shooting range offering a 12-position 75-foot Pistol Range, a 12-position 150-foot Rifle Range, a large Retail Store, Gunsmith Shop and several Classrooms. Hours of operation will be from 10:00 a.m. to 8:00 p.m. Monday through Saturday and from 10:00 a.m. to 7:00 p.m. on Sunday.
On Target Range serves the communities of Northern Illinois and Southern Wisconsin, including all of McHenry County, Illinois.