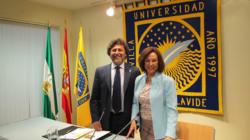 Our agreement with UPO is another step toward the globalization of UNE's undergraduate education.

UNE President
Danielle Ripich, Ph.D.
Biddeford and Portland, Maine (PRWEB) April 24, 2012
University of New England's (UNE) agreement with the University Pablo de Olavide may be the first U.S. semester abroad program to establish lab-based science courses in English in a non-English speaking country. It will allow UNE students to take lab-based courses in organic chemistry, microbiology, and anatomy and physiology developed to meet the academic standards of UNE's biology, pre-health professions and undergraduate health professions programs.
While in Seville students will also have the opportunity to take UNE-approved courses in history, psychology, business, marketing, economics, political science and sociology – all offered in English. Most of these courses will have a focus on either the Spanish or global aspects of the academic discipline.
Students will also be required to take an intensive Spanish language course that will begin two weeks prior to the semester and continue throughout the term.
"Spain is a gateway to all of Europe because of the ease of travel and low-cost flights," said Anouar Majid, UNE associate provost for global initiatives. He noted that UNE students who have studied in Seville have spent weekends visiting most of the major cities of Europe as well as Morocco.
The University Pablo de Olavide agreement was signed April 20, 2012 by UNE President Dr. Danielle Ripich and UPO President Dr. Juan Jiménez Martínez.
President Ripich explained that "Our agreement with UPO is another step toward the globalization of UNE's undergraduate education. Globalization is a major strategic goal of the university. It will give UNE students a competitive edge in the future. It has become virtually impossible in this day and age to be educated and not have a degree of global awareness."
Associate Provost Majid noted, "This is likely a first-of-its-kind program. We know of no U.S. university that offers English-language, lab-based courses in its study-away programs located in non-English speaking countries."
Majid added, "UNE students will now be able to keep up with their science courses, learn Spanish in a native environment, and get cultural exposure to Europe and Morocco. They will live and eat with Spanish host families, and will participate in various cultural activities and field trips, including travel to Tangier, the site of UNE's future campus. All of this is provided at no additional cost to the students."
At least 17 students from UNE's Westbrook College of Health Professions and College of Arts and Sciences are scheduled to be in Seville in Fall 2012, and 14 have already signed up for Spring 2013.
UNE expects to open a campus in Tangier, Morocco in fall 2013 or spring 2014.
On April 23, UNE's President Ripich visited the University of Granada (UG), one of the oldest and most prestigious universities in Europe. She met with President Francisco González Lodeiro and signed a bilateral cooperation agreement between both universities. She also met with the dean and faculty of the College of Pharmacy and with members of the Modern Language Center. The visit ended with a meeting with Dr. Ignacio Molina Pineda de las Infantas, vice president of UG's world-class Health Science Technological Park and a tour of this state-of-the-art campus.
The initial focus of the agreement is to explore opportunities between the two universities' colleges of pharmacy.
UNE Associate Provost Majid explained that the goal is to allow UNE's doctor of pharmacy students to take some of their elective courses and clinical rotations in Granada and to foster research collaborations.
The University of Granada is an institution of 80,000 students that has top-notch programs in pharmacy, dentistry, medicine, social work, and sport sciences, as well as a great number of research programs.
Majid explained that UNE's evolving nexus of programs in Seville, Granada and Tangier "crosses borders, continents, and civilizations, providing connections simultaneously to European, Arabic, African and Mediterranean nations, cultures, and traditions."
University of New England
The University of New England is an innovative health sciences university grounded in the liberal arts. UNE has internationally recognized scholars in the sciences, health, medicine and liberal arts; offers more than 40 undergraduate, graduate and professional degree programs; and is home to Maine's only medical school. Its two distinctive coastal Maine campuses offer programs in the Westbrook College of Health Professions, College of Osteopathic Medicine, College of Pharmacy, Graduate Studies in Public Health, and College of Arts and Sciences. The College of Dental Medicine will enroll its inaugural class in 2013. For more information, visit http://www.une.edu.