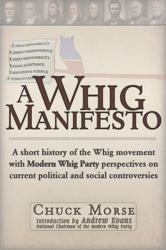 This is the fastest growing third party movement in America
(PRWEB) April 26, 2012
The original American Whigs are best known for hosting the Boston Tea Party, but the revived political party finds itself today as the standard-bearer for American military veterans and others fighting for a more united country, an America that is not strangled by polarized Democratic and Republican leaders at the national, state and local level.
Chuck Morse, a co-host of the syndicated radio program Fairness Radio with Chuck Morse and Patrick O'Heffernan, explores the modern Whigs and their historic American leaders such as Presidents John Quincy Adams and Abraham Lincoln.
"The Whigs of today, like the Whigs of history, are neither left-wing authoritarian collectivists nor are they right-wing limited government libertarians. Indeed, today's Whigs present a philosophy and an approach to government that pre-dates these two political theories which tear at the fabric of the American system," writes Mr. Morse.
What follows is an examination and application of a party platform to the political issues of the day, including:
1. Opposition to President Obama's healthcare plan as a fundamental erosion of individual rights;
2. Support for civil rights and equal rights, and a government safety net for the truly needy;
3. Withdrawal from non-elected "big government" policy-setting groups such as the World Trade Organization and other international agencies on the grounds that they are not accountable to the American voter; Withdrawal from sovereignty eroding international treaties.
4. Protection of American sovereignty, self-determination and elected authority for elected representatives as opposed to unelected and appointed officials, bureaucracies, judges, and public unions;
5. Support for a debt-free constitutional currency; a national debt that does not exceed a set fraction of the gross domestic product as determined by Congress; an economy based on workingman savings not debt;
6. Promotion of local decision-making and responsibility as it concerns public education, and a tighter, more limited role for unelected federal bureaucrats in education and other social matters;
7. Supremacy of state and local rights, with limited national government, especially as it concerns social issues. Strong national government involvement in specific national infrastructure projects.
"This is the fastest growing third party movement in America," said author Morse. "Whigs expect all responsibilities not specifically given to the federal government by the Constitution to reside with the States and with the people. "The Whigs were nationalists before the left gave nationalism a bad name" said Morse. "The Whigs of today seek to re-establish an American nation-state that functions in the best political and economic interests of the American businessman, worker, and citizen."
"For the Whig, the business of America trumps all other considerations. The American people would be well served to become more acquainted with the Modern Whig Party. Whigs played a definitive role in American history and their ideas represent the best America has to offer today."
For interviews: Kris Millegan, 800-556-2012
Chuck Morse, 617-271-5044
C. Brylski, 504-897-6110
Published by Trine Day Books: http://www.trineday.com/paypal_store/product_pages/9781936296934-A_Whig_Manifesto/index.html
Kris Millegan, Publisher (800) 556-2012
Author: syndicated radio host and newspaper political analyst Chuck Morse. Chuck Morse: (617) 271-5044 chuckmorse4(at)gmail(dot)com
Related links: