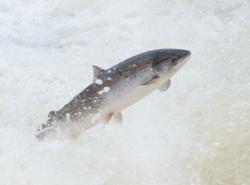 Anglers spent $128 million in 2010, more than double the amount spent by in 2005. Angler spending in 2010 supported almost 4,000 full-time equivalent jobs.
St. Andrews, NB Canada (PRWEB) April 25, 2012
The Atlantic Salmon Federation (ASF) is encouraged by preliminary scientific reports confirming that wild Atlantic salmon returns to many east coast rivers met or exceeded their conservation requirements in 2011. This will have a very positive impact on restoring salmon runs, and should stimulate the strong economic upswing in the recreational Atlantic salmon fishery that occurred in 2010, as reported by Gardner Pinfold Consulting Economists of Halifax.
With improved salmon runs, in both 2010 and 2011, more people returned to salmon angling. Gardner Pinfold determined that 54,000 anglers spent $128 million in 2010, more than double the amount spent by 42,000 anglers in 2005. Angler spending in 2010 supported almost 4,000 full-time equivalent jobs, primarily in rural areas where employment opportunities are often lacking.
It is vital that Canada's government also recognize the salmon's economic value and the thousands of jobs these fish create and the thousands more they could create if there was adequate funding for restoration and protection. Gardner Pinfold determined that a Canadian government investment of only $15 million per year would realize a return on investment within six years because of increased angler participation. Unlike other industries, such as forestry, mining, and aquaculture, that negatively impact the environment, the recreational fishery is a green industry that requires a pristine environment.
More than 80% of eastern Canada's general public surveyed stated they wanted to see healthy salmon populations and were willing to pay more in taxes to ensure the future survival of Atlantic salmon.
Non-profit conservation groups, like ASF, its Regional Councils and affiliates work diligently to restore wild Atlantic salmon. These organizations spent about $15 million in 2010, plus they contributed another $12 million worth of in-kind services and goods for a total of approximately $27 million. In comparison, the federal government spent only $12 million on wild Atlantic salmon in 2010.
Important factors in the upsurge of wild Atlantic salmon numbers are a strong emphasis on catch and release in the recreational fishing industry, and a conservation agreement that ASF and the North Atlantic Salmon Fund of Iceland negotiated with Greenland's commercial fishermen to suspend their fishery that harvests North American salmon on their feeding grounds.
For up-to-date reports on salmon returns and river conditions during 2012, visit ASF's River Notes at http://atlanticsalmonfederation.org/rivernotes/.
The Atlantic Salmon Federation is dedicated to the conservation, protection and restoration of wild Atlantic salmon and the ecosystems on which their well being and survival depend. ASF has a network of seven regional councils (New Brunswick, Nova Scotia, Newfoundland and Labrador, Prince Edward Island, Quebec, Maine and Western New England). The regional councils cover the freshwater range of the Atlantic salmon in Canada and the United States.
ASF Contact: Muriel Ferguson, Communications 506 529-1033 or 506 529-4581
For more information on the 2011 wild Atlantic salmon returns, visit:
http://asf.ca/docs/uploads/salmon2011.pdf