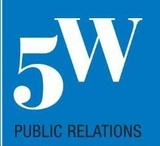 5WPR is thrilled to be selected as PR firm of record for Promotion In Motion
New York, NY (PRWEB) April 24, 2012
5W Public Relations, one of the 25 largest independent PR Firms in the U.S., today announced the addition of Promotion in Motion, Inc. to its roster of consumer products and services clients. Promotion In Motion Companies, Inc. is one of North America's premier makers of confections, fruit snacks and other snack food products, and has been named one of the top 100 candy companies globally. 5W Public Relations will execute campaigns featuring media relations, celebrity seeding, spokesperson procurement, product integrations, co-branded partnerships, event management, and more.
Promotion In Motion's proprietary and licensed brands include WELCH'S® Fruit Snacks and Fruit 'n Yogurt(TM) Snacks, SUN-MAID® Milk Chocolate Raisins, My M&M'S® Brand Chocolate Candies, FISHER® Milk Chocolate Peanuts, TUXEDOS® Chocolate Almonds, SOUR JACKS® Sour Candies, NUCLEAR SQWORMS® Sour Neon Gummi Worms, Gummy Factory® Gummi Bears, TOGGI® Fine European Chocolate Wafers, BAKE SHOPPE(TM) Cookie Dough Miniatures(TM), JUICEFULS(TM) Juice Filled Fruit Snacks and more.
"5WPR is thrilled to be selected as PR firm of record for Promotion In Motion," said Ronn Torossian, CEO of 5W Public Relations. "We look forward to working closely with them to create compelling communications programs to further enhance their brands."
ABOUT 5W PUBLIC RELATIONS:
5W Public Relations (5wpr.com) is a full-service public relations agency known for implementing cutting-edge, customized campaigns designed to drive our clients' business goals and objectives. Founded by Ronn Torossian in 2003, the energetic and focused culture earned the agency a spot on the INC. 500 list and recognition as the nation's "fastest-growing PR agency" three years in a row. Our 24/7 approach led the industry's foremost trade magazine to describe 5WPR as "aggressive in a way that clearly resonates with clients looking for a firm staffed with Type A-plus personalities, a BS-free approach, and results from Day One."
Contact: Ronn Torossian, ronn(at)5wpr(dot)com, 212-999-5585